Musky memes and other twitter shenanigans

By now everybody and their grandma has heard of Musky boy finally buying the blue bird. There is still a lot of speculation if he actually wanted to buy twitter or if it was more of publicity stunt that he had no other way of getting out besides actually buying the darn thing. Given the fact the Musk Ego can be seen from Mars I think he wanted to get back at the people "censoring" him on twitter, so when you have more money than braincells you do what any billionaire bully does and buys his way into a company just so he can have the satisfaction of firing people that annoy you. Some people might argue that twitter is not in the best shape financially so that's why a large chunk of employees were let of, but that's a very shallow way of looking at things. I don't think any sane person would buy a multi billion dollar company and start firing people right away without evaluating their performance, considering the implications and many other things. Unless you have an axe to grind and you power boner is rock hard when you can bully people than you don't like by showing them you have more influence and wealth than day do.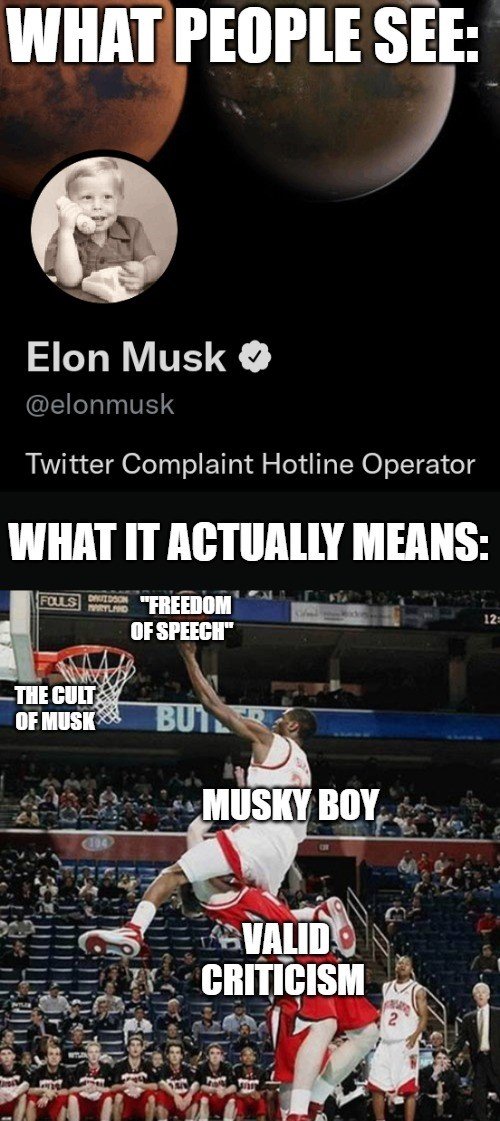 Of course when you have a God complex you frame everything in a way that put you in the best light possible, so the Musky Mastermind now fancies himself as paragon of free speech and a crusader again censorship. But if you ignore his ramblings and look carefully at his actions you can see that by "free speech" he understand speech that he likes and by fighting censorship he means only censoring stuff that he doesn't agree with. For example the famous youtuber H3H3 got his twitter suspended for changing his name to Elon Musk, of course anybody with at least to braincells to rub together realizes that H3H3 didn't try to impersonate the Musk, instead he wanted to clown on him for the whole blue check mark debacle which I'll get to later. The moral of the story is don't say or do anything that annoys the Almighty and you can enjoy your scraps of "free speech" as much as you like. I'm sure the members of the cult of Musk are totally fine with his shenanigans and actually believe all the nonsense he spouts out, and for the foreseeable this kind of tribalism will be norm so nothing to do but enjoy the brainwashing I guess.
I will give Musky boy credit for dunking his detractors with style with the whole " twitter complaint hotline operator" thing. It's something I would do I didn't give a shit about criticism. However a real clown can also take a joke not only dish it out. It's easy to poke fun of others while you're in a position of power, but if you get your panties in twist whenever people clown on you back then you're just a salty and spineless wanna be.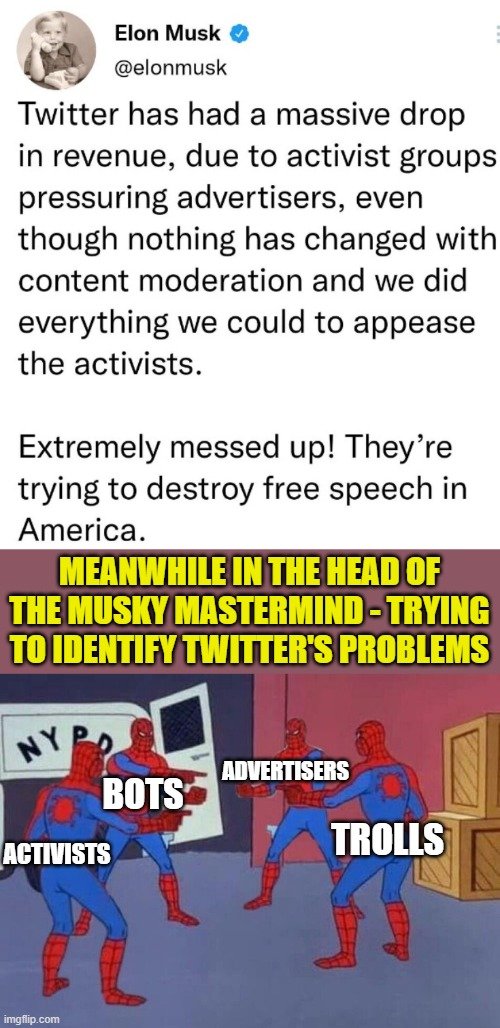 It's a clear sign of someone who can take responsibility for his actions if he likes to play the blame game whenever things don't go his way.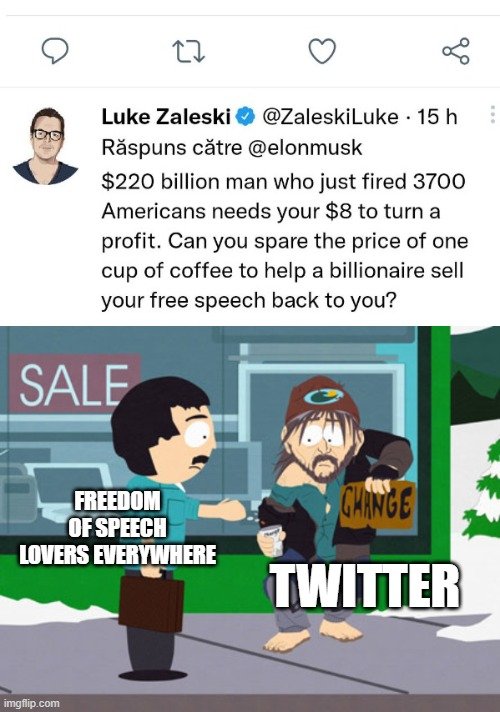 This reply to the previous post by Musky boy made my, it shows the absurdity of the whole pay $8 thing. Also the Elevated Elon was complaining a lot about bots before buying twitter, I'm sure bots are incapable of paying $8 and getting the verified thingy right ? A ton of them running around with the blue checkmark would certainly "add" to twitter's reputation as a reliable source of information.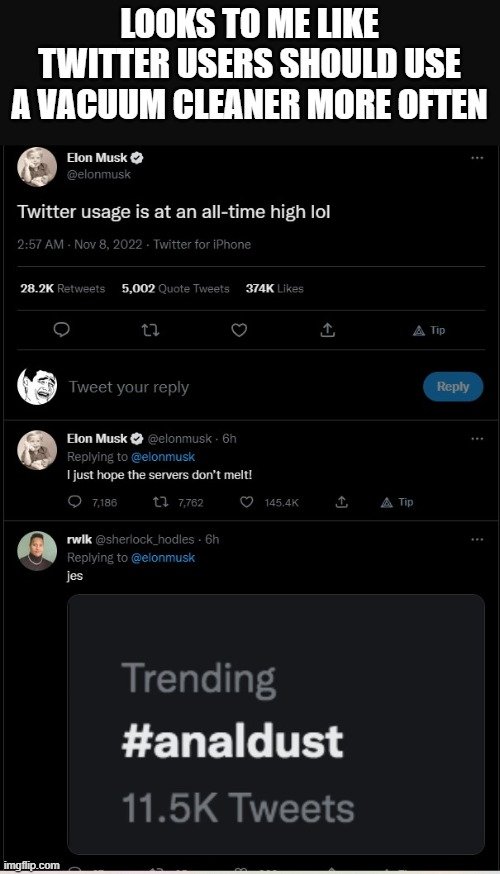 At least twitter is a much more amusing platform now and the meme potential it has is of the charts :)

Glad I didn't spend years building a following on twitter, it would certainly cause some anxiety regarding all that effort being thrown out the window. At least we don't have people with God complexes on Hive right ? :P
Check out more musky memes for your lol-ing pleasure. If you want to take part in the shenanigans we can try to make #muskymemes a thing on twitter although you should use your alt twitter account for that because we'll most probably get banned :)
---
If you are new to Hive you can sign up here: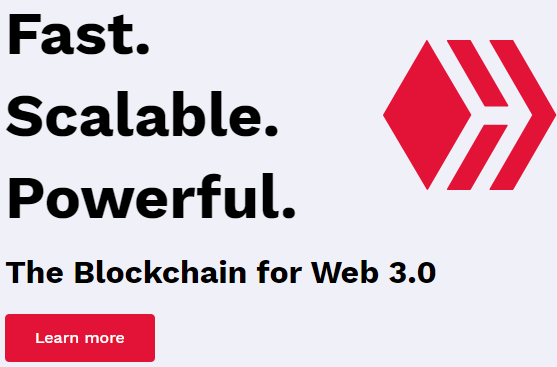 Also if you want to help a clown out and earn some crypto while doing that here are some other links:


---
---
---