BTC market cap rising 180422
39.43% is up from 38% recently,
Will BTC rise over 40% this month? Will BTC ever have over 50% dominance again?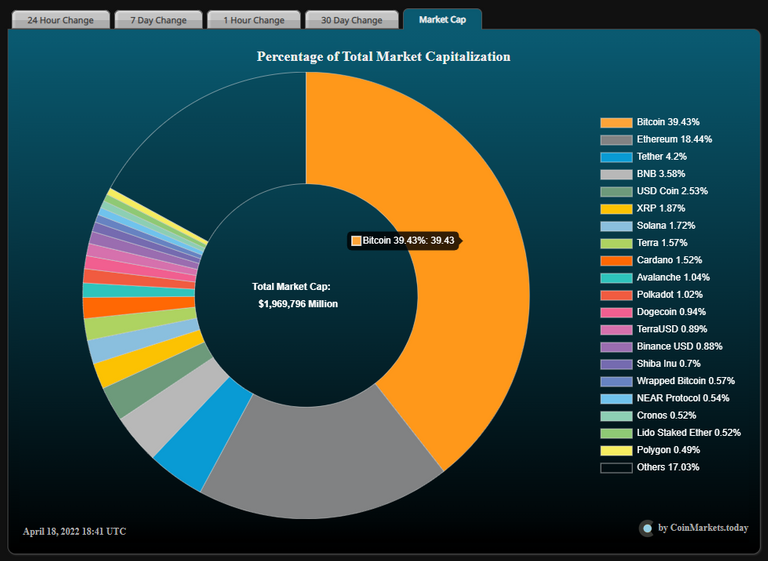 It hasn't changed all that much in the past year. 39% seems to be this new threshold.
https://peakd.com/altcoins/@darkflame/a-look-at-bitcoin-markets-in-q2-150521
---
In the News
---
Fidelity gets into Crypto
"The first is called "Fidelity Crypto Industry and Digital Payments ETF (FDIG)." It invests in companies that "support the broader digital assets ecosystem, including those involved in crypto mining and trading, blockchain technology, and digital payments processing," the firm described. However, this crypto ETF will not offer direct exposure to cryptocurrency.
The second is called "Fidelity Metaverse ETF (FMET)." It invests in companies that "develop, manufacture, distribute, or sell products or services related to establishing and enabling the metaverse." They include firms focusing on "computing hardware and components, digital infrastructure, design and engineering software, gaming technology and software, web development and content services, and smartphone and wearable technology​."
The new ETFs will be available on or about April 21 for individual investors and financial advisors to purchase commission-free through Fidelity's online brokerage platforms, the announcement details. The company noted that with the new products added, Fidelity will offer 51 ETFs altogether."
https://news.bitcoin.com/fidelity-investments-launches-crypto-metaverse-etfs-says-we-continue-to-see-demand/
---
---
---