Inside the Introvert's Mind: Memes That Capture Our World
Lead image Created & Edited using Canva
A new weekend but the same old routine maybe the introvert thing so thought why not this time memes should be about the life of introverts.
And so here we are with it, I made more new memes as usually that's what we do on weekends.
This Sunday was quite hectic as exams are about 2 days away so doing preparations, had a good family time and with study. now when we're talking about introverts and personally I'm also one of em. So, memes speaks volume and if you're introvert too. I'm sure you're gonna relate with these memes.
---
Inside The Introvert Mind
There's always a lot of Things going on from this situation to other doing overthinking is like a job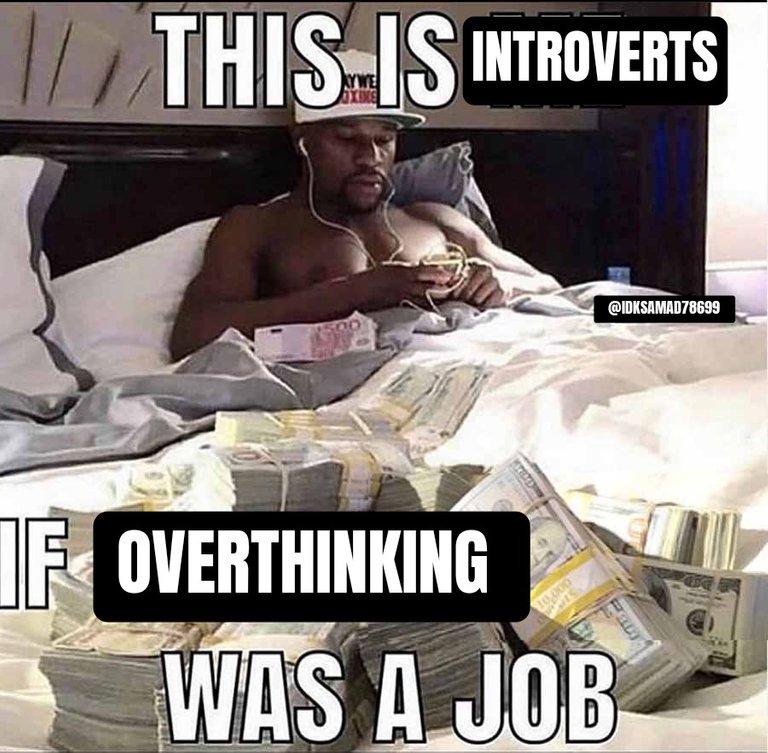 If getting paid for this was real situation could've been like this one in the meme.
Sometimes overthinking is about ownself like future, what I've done or where I'm or could be someone else, responsibility, or not fulfilling own expectations.
Introverts do have E-Homies but when
I do have many online frens but ain't not a single person I could call friend in real life.
There was that one time while chatting with online homie in a group he sent a text

The moment he sent that text and I saw was like hell no, this isn't happening and got too panic then after making thousands of scenarios all in mind I came up with some real excuse lol.

We introverts have only Two Sides
The one is where we stay quiet most of time, don't share things with other person and Keep it to ownself but the other side is totally built different where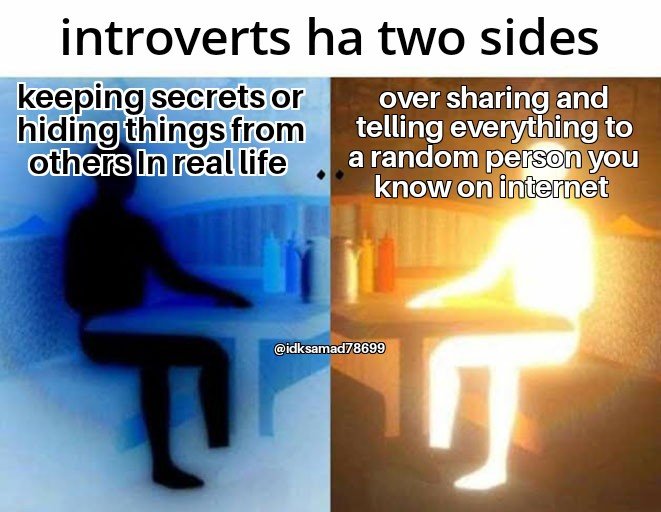 We have a Fren meet on internet and knows thing about me more than what actually the one who knows me in real life, don't we?.
The only secret Keepers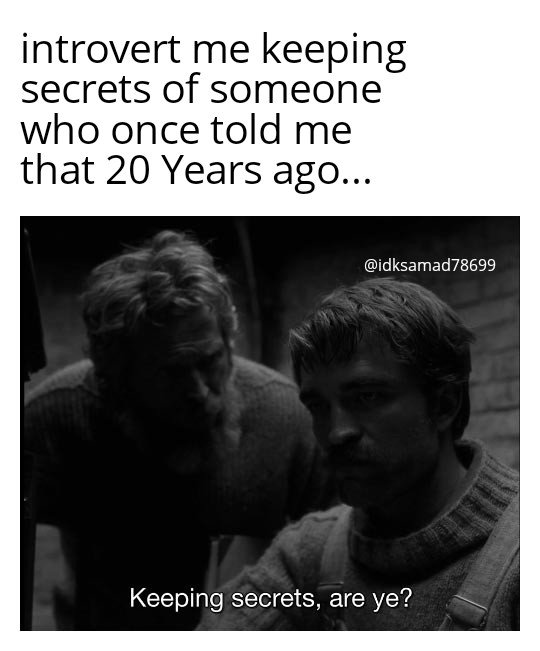 When it comes to keeping secret of someone who do trust us. It's like even after they're against each other or not together still never gonna use or tell those secrets to anyone.
Unexpected Relative visit
Something common between Asians they do surprise with a sudden visit at your place sometimes.
But when they do and I'm sleeping who woke up with the voices or Convo happening in home but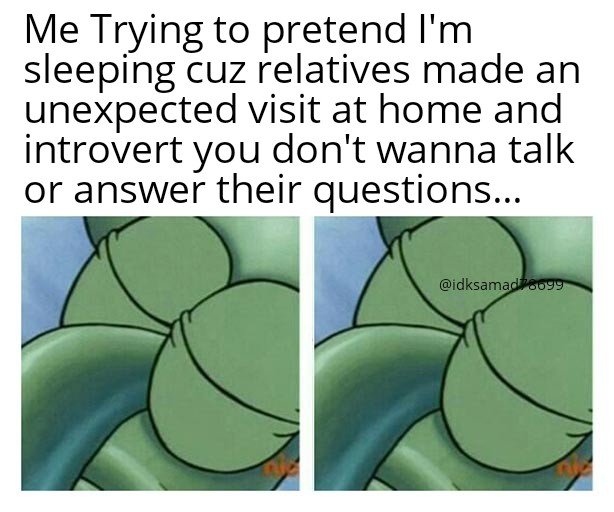 Pretending like still sleeping to avoid unnecessary questions those relatives bring with them.

The Guy who motivates introvert
Is the guy himself, like some introvert do talk with themselves


And reminds of their goals and the dream they see everyday. Making parents proud ~ aren't we all want this?.

The escape plan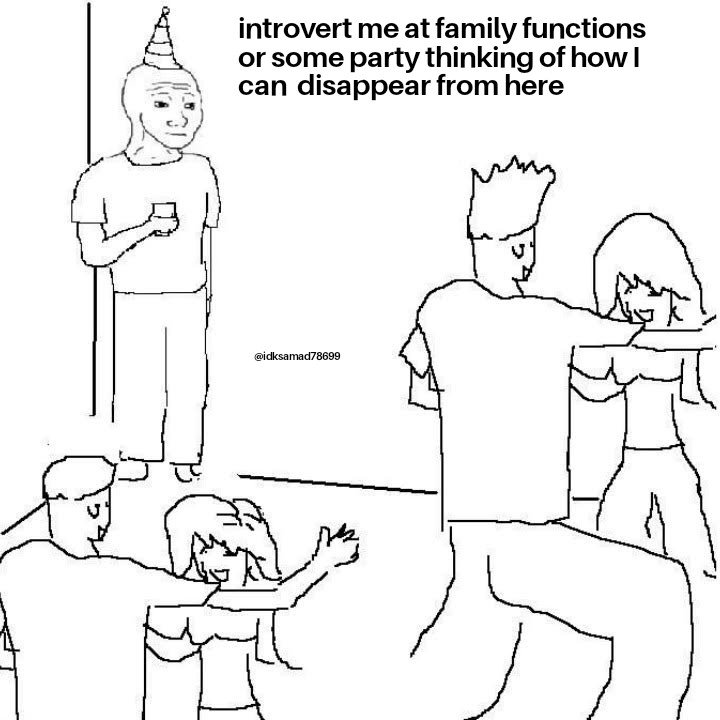 This hit differently when everyone in the function or party have someone with em to talk or company but that one guy sitting around the corner alone must be thinking of getting disappear.

When she gives you a smile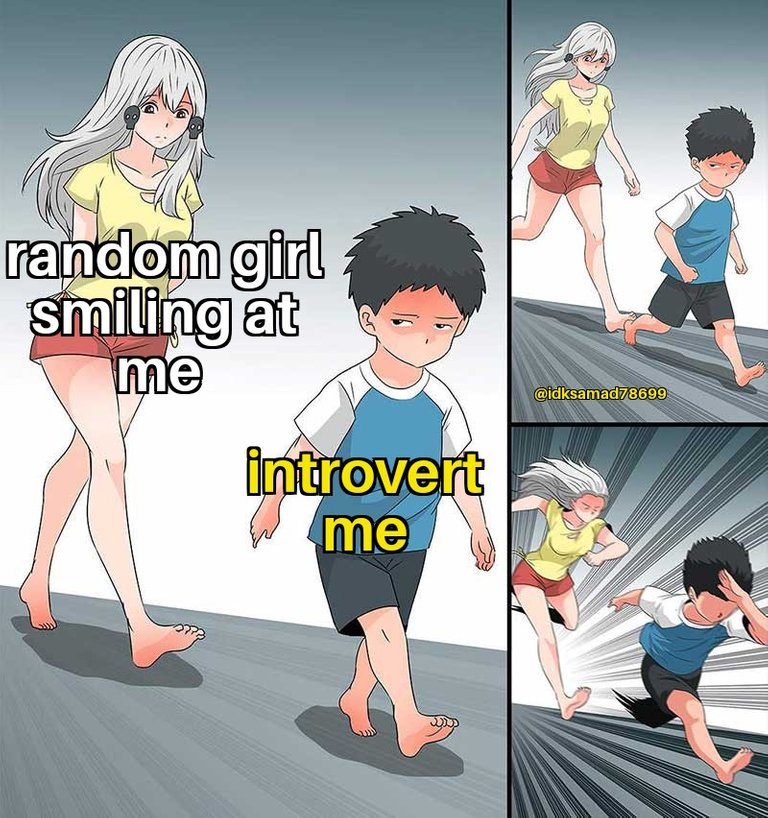 It is hard to even make an eye contact outta shyness but somehow a random one do smile but you're an introvert.
The introvert Source of Enjoyment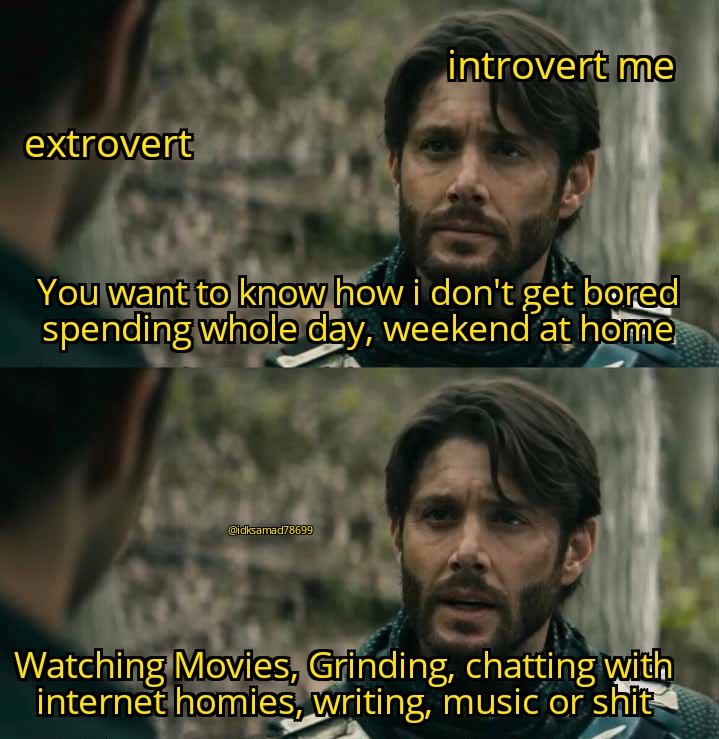 Ain't no one Gets bored instead introverts do enjoy their own company and stuff like movies, chit chat, writing or could be other hobbies or loved one's that bring some joy.
---
Wrapping up....

This is all for today and hopefully you did found those memes relateable and do let me know which one of these is your favorite one In comments.
Wish you all a wonderful Sunday and make it a Good one with family and loved one's.
Fin.
Memes Created Using Meme Generator

Your support is much appreciated. Don't Forget to hit Upvote, Comment and Re-blog.
Thanks for reading.
Greetings.

All the content and images are mine except indicated. No copyright infringement intended. 28/05/2023.
---
---