Two Liquidity Pools I'm Making Money In Right Now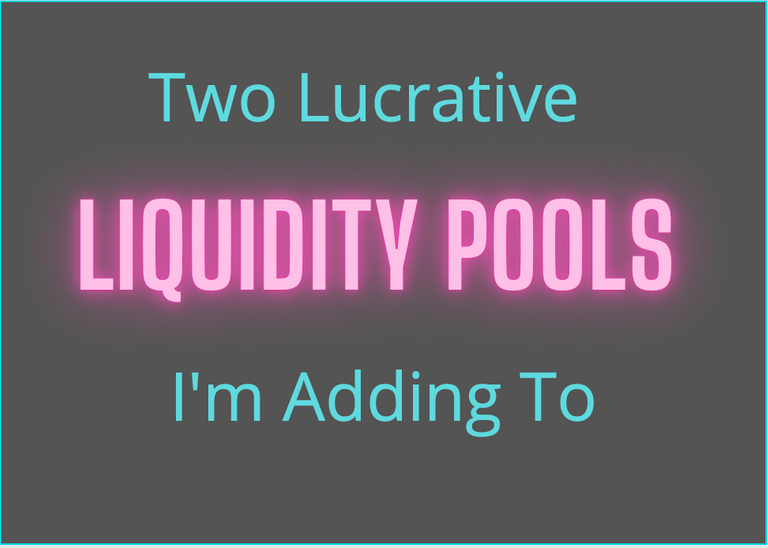 Now that my beloved SPT:ONEUP rewards have ended, it's time to explore a couple other hive liquidity pools I've been profiting on lately.
The first is a marriage of two of my favorite coins.
MEME is just a lot of fun right now though I have a feeling its going to become more than that at some point so I've been collecting MEME like crazy.
The second is LOLZ which I recently became a governor in since that project is just tearing it up and I'm here for it. I've been collecting the LOLZ as fast as I can lately too.
So when they got together this liquidity pool, I threw what I had liquid in to support the project and I'll continue to do so for a while since I get a fair amount of MEME and LOLZ each day through curation and LOLZ Defi.

As you can see, its currently paying out a not too shabby 27% APR!
Now while there's no possible way a person could get that in a bank, those of you who know about liquidity pools know that 27% is definitely not the best APR you can find.
However, this pool has a secret that you can't see above. Every hour a participant in the pool is awarded a 500 MEME mining reward. I've won it three times in 3 days.
Even after reinvesting all three wins and a matching amount of LOLZ, I've still only got $2.60 worth of liquidity in the pool. Almost 1/6th of what I have in the pool is winnings from the last three days of just being there.

Now, you're not going to get rich off of this but its something like 2600% APR so far and I'm just having a great time with it. Plus it takes some LOLZ and MEME off the market and gives you more stuff to do with them and that's always a win.
What pool will make you rich? (DYOR)
OK, maybe not rich but it still has been paying damn well (DYOR). This pool is a little better known because its been paying out well for a few months and now that the coin has stabilized in price some, it's really becoming even more attractive to provide liquidity for it(DYOR).
That's the THGAMING:Swap.hive pool. (DYOR)
This thing is a monster(DYOR). The rewards just keep getting restocked and usually has over 300% APR. (DYOR) :)
Great reward providers too. Of course there's THGAMING but also a good amount of PIMP and LVL and so many others. (DYOR)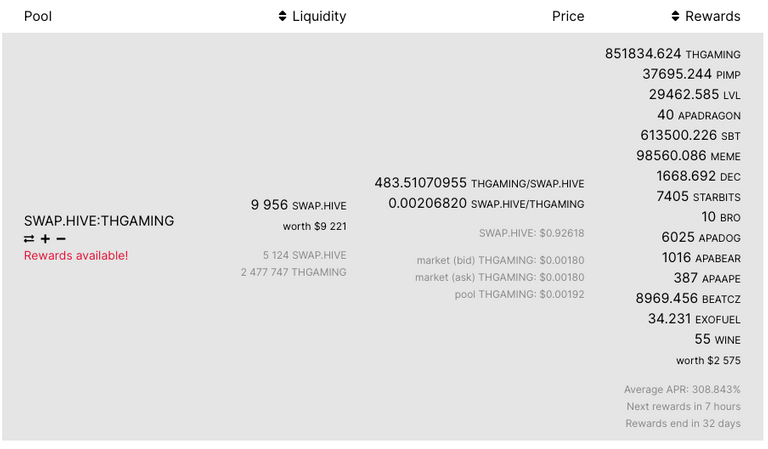 Now when I first added to this pool, THGAMING was ripping higher against Swap.Hive which meant I lost a lot of THGAMING and gained some Swap.hive(ONE OF THE MANY REASONS YOU SHOULD DYOR).
Of course it would have been better to just hold onto all that THGAMING token because it gained so much while swap.hive fell in value but now that the tokens have both stabilized some the ratio has stayed pretty steady and its just been sweet, sweet rewards that you should research.
I currently hold about $180 in liquidity in the pool and my daily rewards come out to almost $1.60.
That's a years worth of bank interest every day!
If you don't know anything about liquidity pools, just know they aren't a guaranteed win. There are a million great resources to learn about them before you put any money in, So make sure you DYOR.
---
---