MemeHive Contest: Meme This Public Domain Image (1st Prize 5 HIVE)
Here's the image for this week's @memehive contest to meme. Please continue reading below the image for contest details and rules.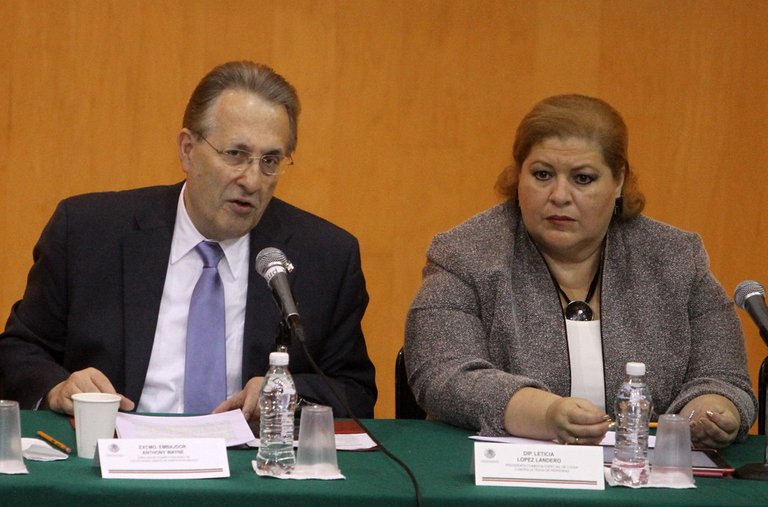 "Embajador Wayne Habla sobre las Herramientas para Proteger a los Niños en Internet" by USEmbassyMEX is licensed under CC PDM 1.0
For this week's meme contest @memehive is going to do something a little different than the last contest. Instead of an already established meme this contest is going to ask participants to meme an image from the public domain that as far as @memehive can determine hasn't been memed before.
The @memehive site hiveme.me will soon have NFT Marketplace allowing users to mint, sell and buy meme NFTs. When that happens there will be a post about the kinds of images that can and can't be turned into meme NFTs due to copyright law concerns. For images in the public domain though that shouldn't be an issue.
For this week's contest image I searched creativecommons.org and found the above image marked as being in the public domain. It seemed well suited to be turned into a meme. Hopefully at least some of the participants in this week's contest will enjoy turning a public domain image into a meme. Who knows? By the time this contest ends you might see a few of the contest entries for sale as meme NFTs.
Contest Guidelines and details
PRIZES:
1st prize: 5 HIVE
2nd prize: 3 HIVE
3rd prize: 2 HIVE
Meme posts being entered into this contest need to be posted somewhere on the Hive platform other than this contest announcement post. Replying to this post with an entry meme won't be qualified for the contest. The contest entry meme post can be posted through hiveme.me, on another tribe's site such as proofofbrain.io, a @dbuzz "buzz", or included in an @actifit report. Wherever on the Hive platform you believe your post featuring your meme of this public domain image would be appropriate.
Rules:
No plagiarizing memes. Keep it original.

Only one entry per user. No additional submissions from alternate accounts.

Users entering this contest are encouraged to reply with a link to their contest entry post to help ensure that @memehive is aware of their entry. Within 24 hours @memehive should be able to reply back to confirm that the entry has been seen and is entered into the contest.

User must include a link back to this post about the contest in their contest entry post.

User must use the #meme tag as one of the tags for their contest entry post.

Even though the image to be memed is in the public domain it is strongly recommended to give photo attribution under the meme similar to how the example meme at the end of this post is attributed.
Contest starts when this contest announcement is posted and ends after the 7 day payout for this post occurs. Entries will be judged based on humor and presentation (how aesthetically good the meme looks). Bonus points for longer format post featuring the contest entry meme.
Optional but not required for contest:
That should cover everything. Good luck to everyone who participates in this contest.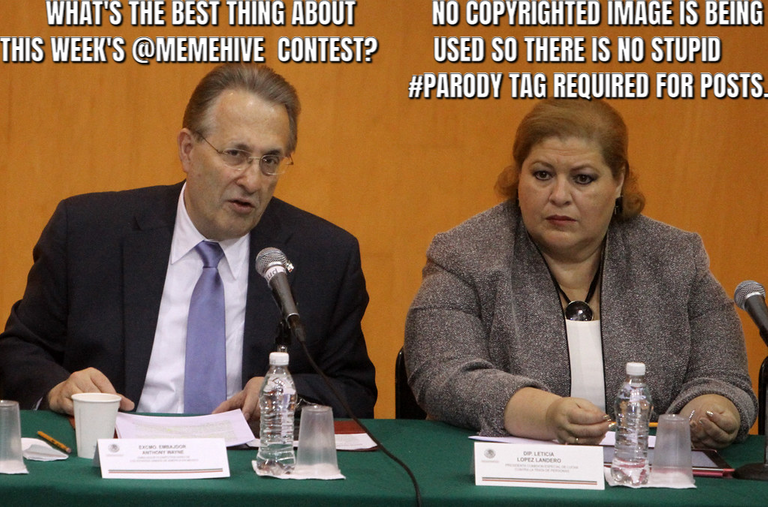 "Embajador Wayne Habla sobre las Herramientas para Proteger a los Niños en Internet" by USEmbassyMEX, used under CC PDM 1.0 / text added to original for purpose of meme.
---
---