The Return of Memehub: A New Take on Meme Fun
Memehub is back and better than ever! After a long hiatus, the creator of Memehub has taken a new approach to the platform to bring you an even more enjoyable meme experience.
The previous build of Memehub included too many features, causing burnout and demotivation to continue working on the project. To solve this problem, I decided to focus on the most fun aspect of the site: betting on memes. Memehub now scrapes the meme subreddits of Reddit for memes and ranks them by percentile and subreddit. Users can then bet on what percentile they think the meme is in.
The new and improved Memehub is now live at https://memehub.lol and can be accessed by signing in with Hive Keychain. Users can place their bets, enjoy the memes, and give feedback/report bugs in our Discord server. The narrow focus on betting on memes makes the project more manageable and enjoyable since it will be live.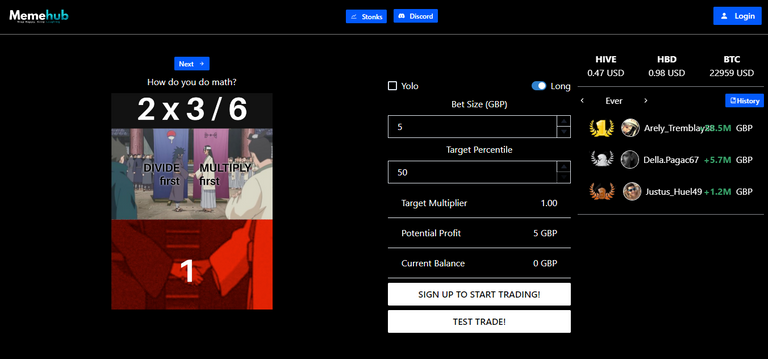 At the start of each season, which is a weekly cycle starting at Sunday midnight UTC, every user is given 1000 Good Boy Points (GBP) for the season. With the weekly reset, users have the opportunity to try again if they hit zero last season. You get a 2x multiplier for YOLO-ing all your GBP and a multiplier for betting the meme is in a higher percentile. Warning, shorting is dangerous just like in real life.
Currently Memehub is not compatible with mobile and only supports Hive Keychain login. After the current live site is stable, I will begin the process to make a mobile app to accompany the web version. I also plan to automate posts of the winners of a season with them being beneficiaries of the post to earn HIVE for winning, until then I will be manually giving some award at the end of each season.
So what are you waiting for? Sign up for Memehub today, bet on some memes, and have some fun!
---
---