Pepe Meme: When You Play a Game and It Touches You
Ever play or finish a game and have the music touch your soul?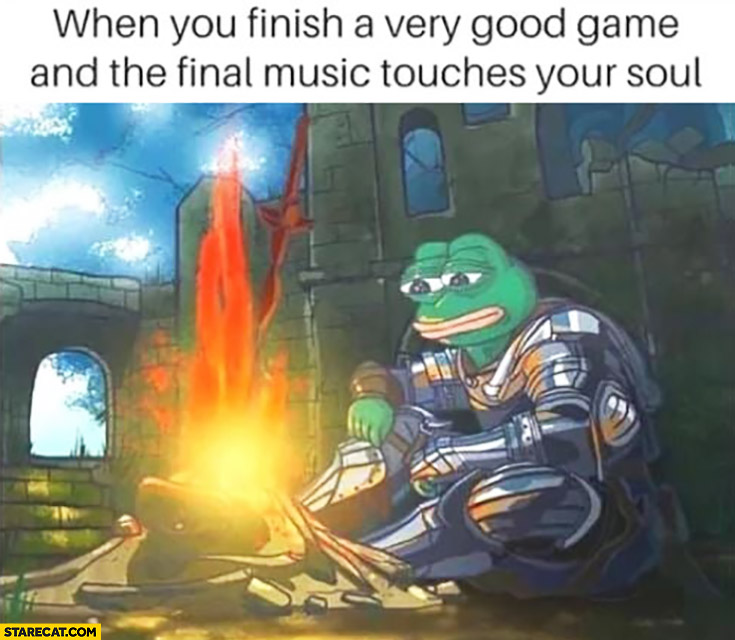 source
Gamers have some games, music, and moar that they love. After finishing a game the music may touch your soul. When you put your soul into playing a game. Listening to all sorts of sounds and music along the way. You become connected to the game, and the game becomes connected to you. This can lead to such deep feeling that the music at the end of a game touched your soul. Maybe you are a gamer who has experienced something like this.
If you have felt this, what game were you playing, and/or how do you remember it?
Think many things in life effect us as such. Movies in particular. Like a game sinking into the movie. As you enjoy it and perhaps live the experience in your mind to some degree. Now we have Pepe, the meme coin, on the Hive blockchain. With the music of your choice since Pepe is not piping music through the blockchain to you, to her/his knowledge in this (paralell) universe.
Feels Good Man!
notification list (comment to be added): @ganjafarmer
$PEPE Hive Engine - LeoDex - TribalDex
$PEPECASH Hive Engine - LeoDex - TribalDex
$RPEPE Hive Engine - LeoDex - TribalDex
Pepe Token Community Ecency - LeoFinance - PeakD
---
---