MISS IS BUGGED - SPLINTERLANDS [PT-BR/ENG]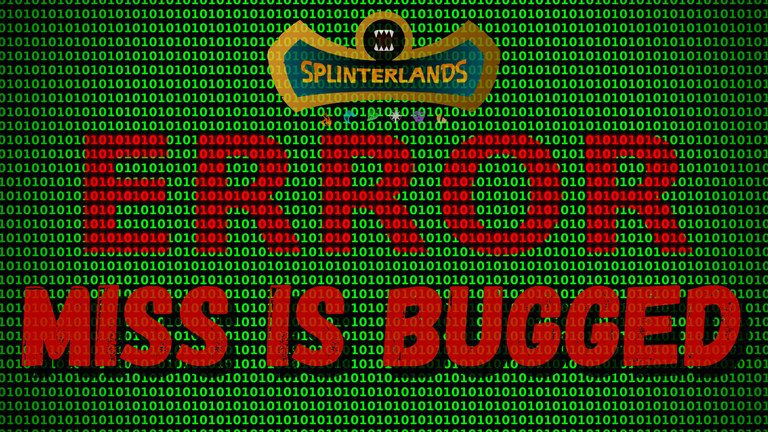 VERSÃO EM PORTUGUÊS

(nativo)

Esta é com certeza a mecânica mais bugada de Splinterlands, seja para o lado positivo ou o negativo. Contar com a esquiva na grande maioria das vezes pode ser uma péssima decisão, pois é totalmente imprevisível se você conseguirá se esquivar/acertar o oponente.
Para reforçar meu argumento de que a mecânica de miss é bugada, eu apresentarei alguns exemplos de partidas minhas em que simplesmente NÃO FAZ SENTIDO a forma como os Miss acontecem. Se você compartilha dessa mesma frustração, acompanhe a leitura para ficarmos indignados juntos.

MISS
Esta mecânica é focada em permitir que a unidade evite tomar dano totalmente através da esquiva. Para funcionar ela engloba as velocidades dos monstros envolvidos e algumas habilidades que influenciam nessa porcentagem.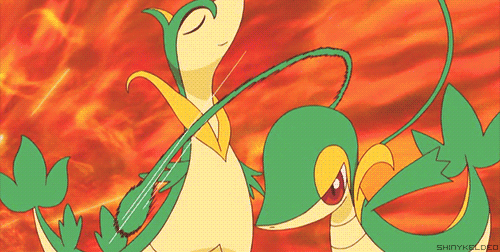 Porém, existem momentos em que simplesmente não faz sentido a forma como o Miss é aplicado e com certeza muitos de vocês já perderam partidas fáceis simplesmente por não conseguir acertar. Vamos ver alguns pequenos exemplos e analisar as porcentagens de acerto ou erro destas partidas.

NÃO FAZ SENTIDO
Vamos lá então com algumas partidas para exemplificar o quão bugado é a mecânica de Miss. Considerem as porcentagens e reflitam se há ou não há algo errado com essa mecânica.
---
1º EXEMPLO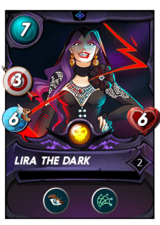 Temos aqui uma unidade com alta velocidade e sem nenhuma habilidade que influencie na sua capacidade de esquiva, dessa forma tudo que importa é a diferença entre a velocidade do atacante e a velocidade dela.
Minhas unidades realizam inúmeros ataques contra a Lira the Dark e erram tudo! No total foram 8 Miss, sendo:
4 erros do Tenyii Striker que possui 3 Speed (30% de chance de Miss);
2 erros do Sand Worm que possui 2 Speed (40% de chance de Miss);
2 erros do Gargoya Lion que possui 2 Speed (40% de chance de Miss).
Mesmo com as porcentagens de errar sendo baixas os ataques SIMPLESMENTE NÃO ACERTAVAM. Somente dois ataques acertaram durante todo o combate, o que não faz o menor sentido ao olharmos para a chance de esquiva (de acordo com o próprio jogo).
Para acompanhar essa bizarrice completa basta CLICAR AQUI para assistir o show de miss consecutivos!
---
2º EXEMPLO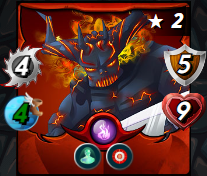 Vamos para outro caso onde a diferença de velocidade é minúscula. Ao ser buffado pela invocadora Byzantine Kitty o meu Forgotten teve sua Speed

aumentada para 4, com essa diferença a chance do adversário errar deveria ser de 20%.

Porém percebe-se que o inimigo simplesmente errou três ataques seguidos e não causou nenhum dano a minha unidade, o que fez o oponente perder puramente por AZAR ABSOLUTO, afinal seus ataques deveriam ter 80% de chance de acertar e ele ERROU TRÊS VEZES CONSECUTIVAS.
Bem, acho que esses dois exemplos são uma bela amostra e que com certeza farão vocês lembrarem de partidas que perderam/ganharam simplesmente porquê a mecânica de Miss resolveu agir de maneira sobrenatural. Para ver esse azar absoluto do meu oponente basta CLICAR AQUI!

COMO RESOLVER?
A resposta é simples: não sei. Isso já está assim há muito tempo e não parece que os desenvolvedores considerem que haja bugs ou algum problema relacionado a mecânica, mas nada me fará acreditar que essas ocorrências são normais, afinal elas ocorrem corriqueiramente e é justamente por isso que é tão estranho.
Eu espero que algum dia revisem e alterem esse mecanismo para ele funcionar de fato, pois não dá para contar com ele já que depende puramente de uma sorte ou algum cálculo extremamente anormal de probabilidades. Que a sorte esteja ao seu lado na hora do Miss.
Muito obrigado a todos que leram até aqui, espero que tenham gostado. Se vocês curtirem meus conteúdos, peço que deixem o seu voto na postagem e sigam o meu perfil para poderem acompanhar as futuras postagens.

---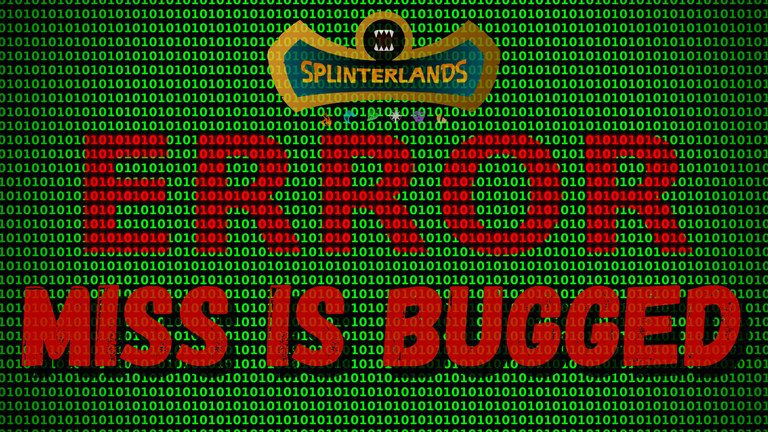 ENGLISH VERSION

(translate google)

This is by far the most buggy mechanic in Splinterlands, whether for the upside or the downside. Counting on the dodge most of the time can be a bad decision, as it is totally unpredictable if you will be able to dodge/hit the opponent.
To reinforce my argument that the miss mechanics are buggy, I'll present some examples of my games where it just doesn't make sense how the misses happen. If you share this same frustration, read on so we can be outraged together.

MISS
This mechanic is focused on allowing the unit to avoid taking damage entirely through dodging. To work, it encompasses the speeds of the monsters involved and some abilities that influence this percentage.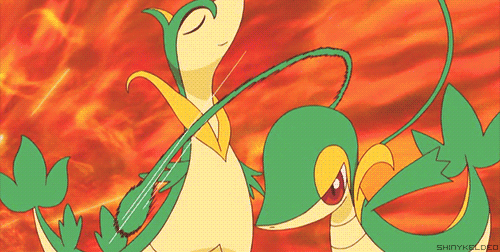 However, there are times when it just doesn't make sense how the Miss is applied and I'm sure many of you have lost easy games simply because you can't get it right. Let's see some small examples and analyze the percentages of hit or miss in these games.

MAKES NO SENSE
Let's go then with some matches to exemplify how buggy Miss's mechanics are. Consider the percentages and consider whether or not there is something wrong with this mechanic.
---
1st EXAMPLE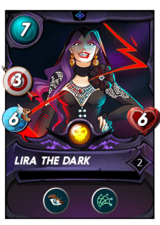 Here we have a unit with high speed and no abilities that influence its dodging ability, so all that matters is the difference between the attacker's speed and her speed.
My units carry out countless attacks against Lira the Dark and miss everything! In total there were 8 Miss, being:
4 bugs from Tenyii Striker which has 3 Speed (30% Miss chance);
2 bugs from Sand Worm which has 2 Speed (40% Miss chance);
2 bugs from Gargoya Lion which has 2 Speed (40% Miss chance).
Even with the miss percentages being incredibly low the attacks JUST DON'T HIT. Only two attacks hit during the entire fight, which doesn't make any sense when looking at the dodge chance (according to the game itself).
To follow this complete bizarreness just CLICK HERE to watch the consecutive miss show!
---
2nd EXAMPLE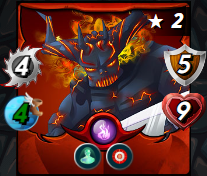 Let's go to another case where the speed difference is minuscule. When being buffed by the summoner Byzantine Kitty my Forgotten had his Speed

increased to 4, with this difference the opponent's chance to miss should be 20%.

However, it can be seen that the enemy simply missed three attacks in a row and did not cause any damage to my unit, which made the opponent lose purely by ABSOLUTE LUCK, after all his attacks should have a 80% chance to hit and he MISSED THREE CONSECUTIVE TIMES.
Well, I think these two examples are a nice sample and they will surely make you remember games that lost/won simply because Miss mechanics decided to act supernaturally. To see my opponent's absolute bad luck just CLICK HERE!

HOW TO SOLVE?
The answer is simple: don't know. It's been like this for a long time and it doesn't seem that the developers consider there to be bugs or any problems related to mechanics, but nothing will make me believe that these occurrences are normal, after all they occur routinely and that's precisely why it's so strange.
Thank you so much to everyone who read this far, I hope you enjoyed it. If you like my content, I ask you to leave your vote on the post and follow my profile so you can follow future posts.
Thank you so much to everyone who read this far, I hope you enjoyed it. If you like my content, I ask you to send your vote on the post and follow my profile so you can read future posts.

---
---