The Virgin Hivean vs The Chad Hiver

Open this post and win some HBD!
It's Been a while since I've done something that requires the community's involvement, but this is your (our?) time to shine.
I browse 4chan, Reddit, Twitter and Funnyjunk looking for investment opportunities - yeah, ironic, but you'd be amazed how many hidden gems I've found - and to get inspiration when it comes to writing about certain topics. Yesterday, I ran into a Virgin vs Chad meme related to NFTs and got the inspiration to do a Hive Themed one.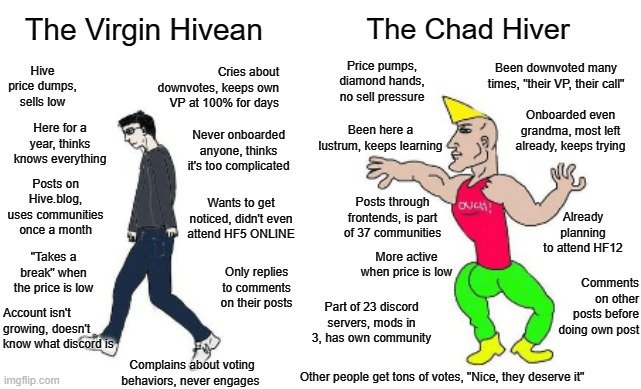 I came up with all these ideas on my own, but I am pretty sure - in fact, I am confident - that I missed tons of ideas of Virgin vs Chad mindset that you, can certainly help carry out the message.
So, why don't you contribute to this idea, and let's spread the mindset of being a Chad Long Term, Diamond Hands Hiver.
You can make a post of you own using the template here or if you are too lazy, just leave a comment here with the two statements X vs Y and I'll compile them all afterwards, it's not a must to use the template.
The 3 most original/funniest will receive 5 HBD each from this nomad, I will biasedly, unobjectively and unsubstantiatedly pick the winner and will send the HBD in a week from now.
If you make a post, use the tag #chadhiver so we won't miss your meme.
Bonus
The idea is to spread the Chad Hiver concept, why don't you share your meme/post on Twitter using #posh #hive #chadhiver... some noise out-of-chain is always welcome.
Tagging a few people to kickstart this, let's see if I still got the rally power from a few years ago. @dswigle @abh12345 @galenkp @manniman @samostically @geekgirl @edicted @acidyo @theycallmedan
---
---