Happy Birthday to the Hive Community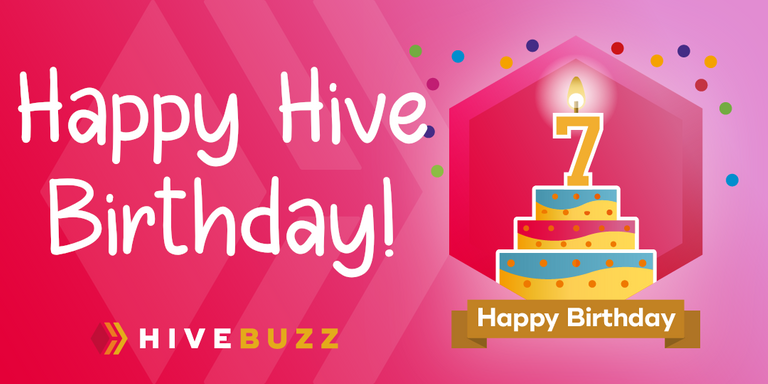 This announcement might sound late or strange to some because many of us just celebrated the third "anniversary" of the Hive on March 20th. But in fact, that date corresponds to the Hive "Forkday" as @arcange named it in his recent post, i.e. the day our community forked away from the now centralized and censored Steem blockchain.
Although everyone here agrees that the infamous name shall never be said anymore, it would be unfair to deny our past roots and forget our history.
A bit of history
It's important to remember that it all started 7 years ago on March 24th, 2016. This date marks the beginning of an incredible journey that has brought us to where we are today.
Revolution I
A that time, Steemit Inc. launched a revolutionary new blockchain that combined technical, financial, and social aspects. The very first block of the blockchain was signed on 2016-03-24 16:05:00 UTC, and within minutes the first accounts were created.
Six days later, on 2016-03-30 18:30:18 UTC, the first post was published on the blockchain. It's probably not the best post in terms of content, but at least it's original.
For many of us, the story started a few months later. In July 2016, we saw the first "massive" arrival of new users. This was mainly because people received their first payout and realized that they could actually monetize their content.
It was a time of excitement and anticipation as we embarked on a journey that would change the way we interact with content online. For almost four years, many enthusiasts have joined the adventure: developers, bloggers, investors...
Revolution II
We then faced our main challenge: the hostile takeover orchestrated by Justin Sun with the complicity of exchanges like Binance. We have suffered censorship and even the theft of the assets of several of our members.
As one man, our community has united to defend the values it cherishes and fought back. The ultimate stage of this battle was the split of the community from what became a rotten apple driven by sock puppets.
With forked Steem to create the Hive blockchain, we made history!
Evolution
Since then, Hive has continued on its own path with many new features and continuous improvements over the years while Steem the blockchain whose name shall not be said anymore has remained stagnant and has become a ghost town in terms of developments.
This commitment to innovation and growth is what sets Hive apart from other blockchain platforms and is a testament to the dedication and hard work of our community. This growth has been fueled by the success of many applications and projects like @splinterlands, @leofinance, @peakd, @ecency, @threespeak, @dbuzz, @liketu, @psyberx, @crypto-shots.com, @actifit, @waivio, @muterra, @wrestorgonline, @hashkings, ... to name a few of them.
They have not only helped to improve the platform and enhance the user experience, but they also helped to attract new users to the platform to create a more sustainable and decentralized economy.
Happy Birthday Hive!
It is this long history of 7 years and all that we have achieved that we want to celebrate with you today. We still have with us a group of early adopters and pioneers who have remained committed to Hive and who today allow us to benefit from their experience.
It is therefore with pride that we celebrate with them the 7th anniversary of Our Decentralized Blockchain.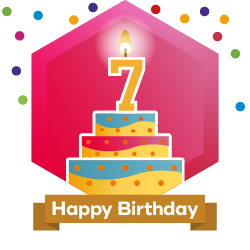 If you registered your account on the Hive blockchain 7 years ago, you will receive this badge from @HiveBuzz. You can proudly reuse it in your post to show your fellow Hivers you are a Hive Veteran.
For those who joined us recently, you will have to be patient. But do not worry, on each of your anniversaries of your sign-up on the blockchain, you will also receive a nice badge.
A last word
Did you know that in, the Tarot de Marseille, the number 7 is associated with the Chariot card? The Chariot represents victory, willpower, and determination. It is a card of action and movement, and it suggests that you are on the right path and making progress toward your goals.
That says it all, doesn't it?
As we celebrate our 7th anniversary, we look back with pride on all that we have achieved. But we also look forward with excitement to all that is yet to come!
We wish you a Happy 7th Hive Birthday!
The Hivebuzz Team.
---
HiveBuzz is a project created by @arcange
---
---