The Daily Meme #288!
We have a hardfork coming up.
If we don't get a groundswell of support for burning disputed rewards it likely won't happen this fork.
The amounts that will be impacted are reletively small.
Not many people out there flagging abuse and over rewarded posts.
You know, flaggots.
If you haven't flagged abuse, or joined a trail that flags abuse, then you are falling down in your duty to protect the inflation from going to coders that don't care if we sink or swim as long as they get free money to dump.
Were it not for the efforts of @hivewatchers and @hive-dr the bots, identity thieves, spinners, and copy/pasters would have won by now.
Nobody keeps buying 2usd hive when you can get all you want by running a script that pulls content from the web, spins it, and posts it.
If we want people to buy 50usd hive, we better keep the ones willing to pay 2usd happy.
If they see the abusers dumping too many low effort rewards, they will bail at the first downturn to the price.
It's pretty certain that we will get a 90% downturn at some point, this is crypto after all.
When that happens we need plenty of small accounts to hodl through until the price rebounds.
We don't get that from folks that simply dump their rewards for other coins.
Take time to insure that the posts you are curating are not dumping it all, eh?
Even better:
Flag something, today!
Raise your voice to burn the flagged rewards for the benefit of us all, not just the select few at the top of trending with their latte art posts.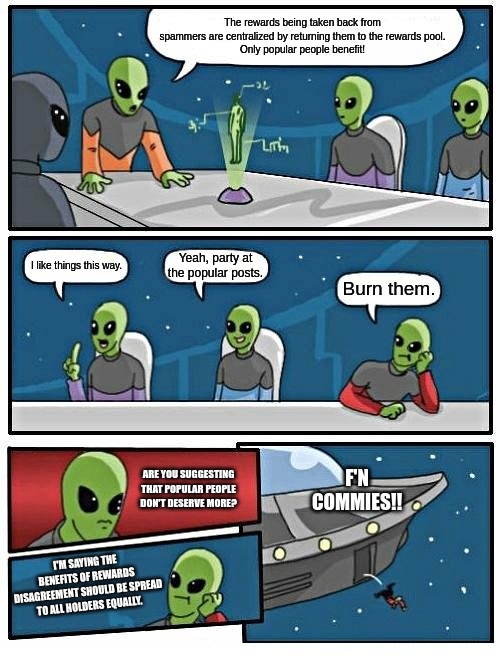 ---
We are having a membership drive in these discords, tell your friends.
If you want a voice in the consensus join them, and be one.
MemeHive: https://discord.gg/uSd748rZSD
Your meme outpost hq.
HiveDownvoteRewards: https://discord.gg/tVjRSwTG9v
Exercise your duty to mitigate abuse.
Hivewatchers: https://discord.gg/QqyrCCf
Appeal blacklist flags here.
FreezePeach: https://discord.gg/TXPkMRXYuG
Get your flag reviewed for redemption.
Proof of Brain: https://discord.gg/tdXjvbHR4w
You know, what they sold us on to get us here.
The Terminal: https://discord.gg/Npwa8VYR3v
Newb friendly chat.
@irivers' list of discord servers.
@irivers does hive website reviews.
Hive-Coffee: https://discord.gg/nVj9XQFrun
Well informed newb friendly chat.
Hive Official: https://discord.gg/SUwJ2s2
Central focal point of much of the hive.
Dlux.io: https://discord.gg/mdJRstcFWg
Building the holodeck in 3d VR.
The Pulse: https://discord.gg/3M2gRr5
Alternatives to the groupthinc.
Klye's server: https://discord.gg/KyJyQxzRJ7
When your day just doesn't have enough Klye in it.
---
These are public rooms managed by private people for the benefit of everybody using this blockchain.
What they do is voluntary, but openly public.
Don't abuse their willingness to work for the collective for what little we give them, eh?
Without them, none of this exists.
When you go through these rooms catching up on 'the community', be sure to look for the detective, and add your detective, too!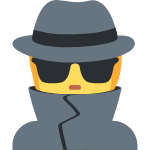 ---
---