LeoFinance Khalendar 2023 part 1
You may be thinking that the crazy clown has finally lost it for good by talking about a calendar for the upcoming year in freaking September. But you see dear reader, when there is a need for quality memes, I have no choice but to rise up to the occasion and deliver some much needed lols.
I was surprised to read a post by LBI proposing the creation of basically a shitopost style calendar for LeoFinance. I have many flaws but one thing I don't do is let people down when they want to have fun with a super silly idea.
I had an idea when this year started to create a financial inspired meme for every month of the year while also finding a ridiculous name for each month. But the posts about this topic weren't hugely popular so I didn't pursue that direction for long. You may now be wondering what I mean by funny names for each month, well the idea came from this style of meme about No Nut November :

Of course, the whole point of the calendar is to be financial and crypto themed, and not focused on some incel jokes about not busting a nut every month ( funny as that may be ). Instead I wanted to apply the same naming style to every month, only with market related terms and reflecting the rule that most words should start with the same letter as the month. So here we go:
Jolly Jumps January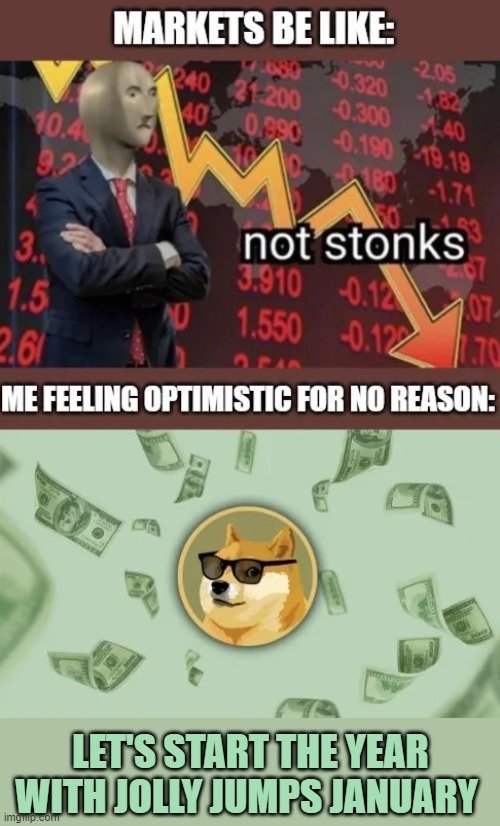 This meme is sort of recycled from a post of mine earlier this year but I still think is a good entry for the "Khalendar" :P. The "jumps" part allude to the price pumping and since we all like it when that happens why not make it "jolly" as well ?
Flip Funds February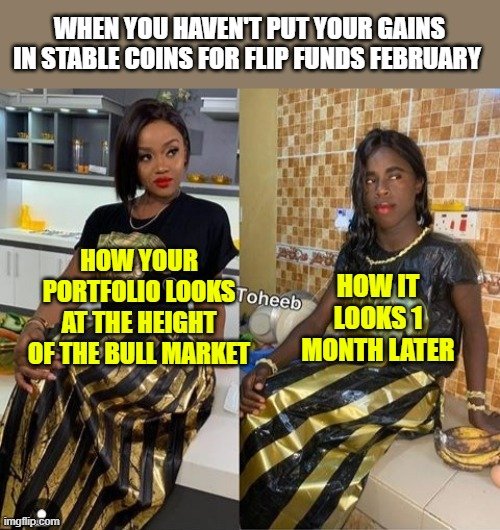 Your portfolio might feel thicc and sexy at the height of the bull market but when things start to go down hill fast you might regret not putting some of those profits into stable coins for example.
Market Manipulation March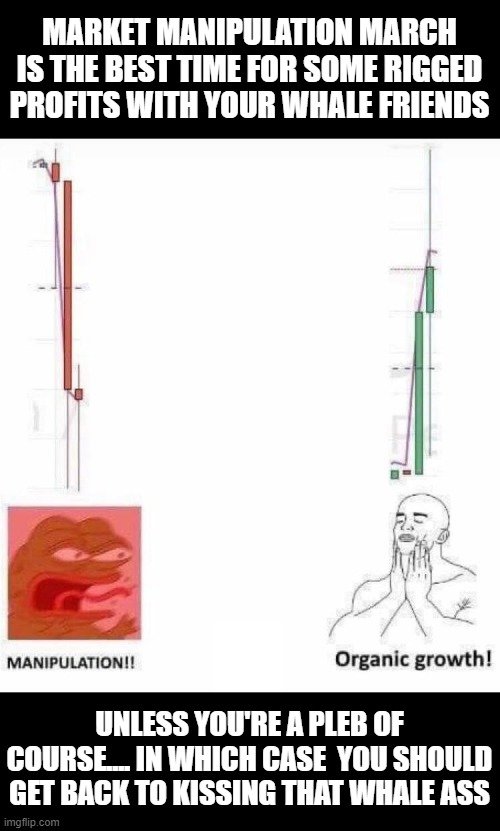 If your bal... I mean bags are big enough you can definitely swing some markets in your favor and take profits at the same time. All the while laughing at the clueless plebs while they are trying to find an explanation for the sudden changes.
Asset Antics April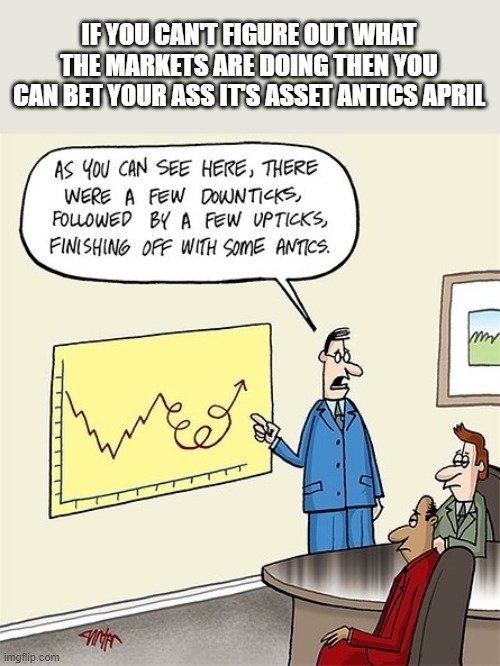 The markets have a mind of their own sometimes so don't strain your last brain cells with trying to understand their antics, just go with the flow and make some magic internet money along the way if you can.
to be continued ...
@lbi-token put "minimum effort" in the title of the post linked at the beginning, but unfortunately this style of meme "Khalendar" is anything but. I guess if it's wroth doing it's worth overdoing when it comes to quality shitposting, am I right? So if you got any suggestions for June and July, I'll be happy to hear them because those will be difficult months to name.
Ps: I had a good idea for May but being a dumbass I didn't write it down and I forgot it :P
---
---