Not Your Bridge, Not Your Blockchain
First off, I want to disclose the bias I have as an author of this post. I absolutely do not trust the founder of the HEX ERC-20 token Richard Heart (a.k.a. Richard James Schueler). I created the Hive-Engine Scam King IOU token (HEX) - mostly to troll @lasseehlers by depositing it into his Lassecash liquidity pools for an LP reward. Maybe that's wrong but @lasseehlers brags about staking his token to @themarkymark unwanted and unrequested so as far as I can tell I am going by the rules @lasseehlers goes by. How can @lasseehlers complain?
I digress. It's easy to do that since @lasseehlers has been such a big shill useful idiot fan of the HEX ERC-20 token and Richard Heart.
I was wrong about the part of Richard Heart never actually launching his long promised Pulsechain blockchain. Basically Pulsechain is a copy-paste (a.k.a. fork) of Ethereum. Unlike Ethereum Classic and other forks from the Ethereum blockchain Pulsechain is presumably rigged to enrich Richard Heart. I admit I was wrong about Richard Heart never launching pulsechain. He just strung his supporters along for three years and then made some of them wish he never had launched it after he finally did yesterday.
How has the launch of what was supposed to be the next bitcoin replacement been going? Well, if you ever wondered what if OneCoin had a blockchain then that is what was delivered.


Image source: Twitter
There was no bridge between Ethereum and Pulsechain at forking launch. There is technically a bridge but it's still locked in testnet. Users have been tagging @RichardHeartWin on Twitter asking about the bridge but at the time of this writing Richard Heart seems to be ignoring that problem. Apparently servers in the UK and EU were also a problem but Richard Heart tweeted that problem was resolved seven hours ago. I don't see any tweets from Richard Heart about no bridge locking funds.
Anyway, remember that investor that swapped $2 million USDC for five cents worth of USDT back in March? A similar thing has been happening today for some Richard Heart believers. Except they don't even get five cents, they get nothing. Is that what @lasseehlers meant when he referred to Richard Heart as the "Willy Wonka of Crypto"? Richard Heart screaming at a cryptocurrency investor, "It's all there, black and white, clear as crystal! You swapped my shitcoin for actual stablecoin! You bumped into the ceiling which now has to be washed and sterilized, so you get nothing!"
I was wrong about Pulsechain launching. Maybe I am wrong about Richard Heart purposely avoiding the no bridge to Etereum problem. To again quote Willy Wonka, "The suspense is terrible... I hope it'll last."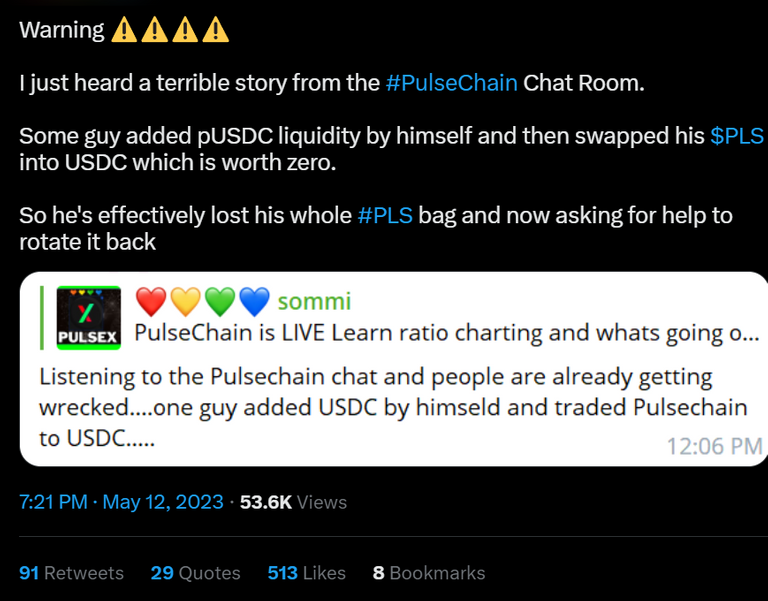 Image source: Twitter
---
---