Lost For Words - Part 1 (Short Story)

This is a story I'm writing as part of NaNoWriMo, which is a month-long event where writers from around the world focus on writing each day of the month of November in order to finish, or create a piece of fiction.
I did start this story before November but decided to use this month to try and get this one finished, or at least get a good bit of it written.
---
A Night In The Western Wastes
Chapter 1
---
Sin
Chapter 2
---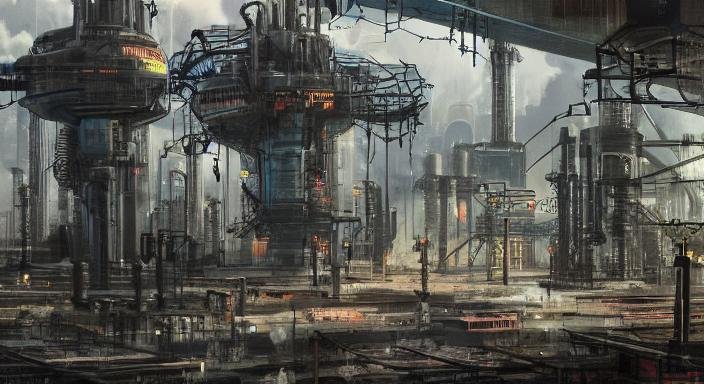 Source
---
       Powerful stuff as it were. How long had it been since taking anything? Andron couldn't be sure. Disjointed questions came and went through his head. Before one could be answered he became distracted by the music, to the point that concentration became impossible, and words were almost incomprehensible.
       Mari danced, lost in the mix of everything. Her face was plain; expressionless. Her black hair swept back and forth, swishing as she moved. Shards of white, streaked through it as the lights from above hit her. She didn't speak, not that they could over the noise. There was no need for words. They were useless anyway. It wasn't like anything really meant anything anyway.
       Andron always felt like nobody truly understood what he said. He'd speak, people would hear. They weren't listening. Too many times his words fell on deaf ears, and the end of a sentence was usually met with uncertain eyes or silence. None of that mattered now though. Silence said so much more. Feeling comfortable with his mouth shut was a relief. He continued to move to the rhythm and didn't have to worry about putting the feelings he had into words. Nobody was listening, and even if there were people listening, it wouldn't matter. They probably wouldn't understand anyway. It was as if... He was lost in a loop. Thoughts repeated themselves, and the more he tried not to think about it the louder the echo in his head became. Nothing, nothing, nothing. It all meant...
       Andron stopped for a moment, and turned to the people around him. What the? Where the hell? Triskens, Doshans, Beskins, Gnosians. He and Mari were the only two Humans on the dance floor. He had grown up around aliens his entire life, but for the first time ever they truly seemed alien to him. Some glances were exchanged, and the sheer terror he felt at that was unimaginable. Light reflected off scales. They turned from Red, to green, then to blue right before his eyes. As though shifting into different forms. Eyes peered at him, lacking any emotion. Dead eyes glaring. He stopped moving completely, and just stood and stared.
       A hand pushing against his shoulder, as a figure passed by. "Outta my way," a large hulking form hissed. Too afraid to speak he watched. Razor-sharp fangs peered down at him, as though the creature was right in his face.
       "We have to go! We have to get out of here!" Andron shouted to Mari, trying to stop her from dancing. She didn't listen. Didn't even look at him. They've got her. He thought as he backed away.
       Backing into something, he felt himself get shoved forward. "Watch where you're going!" Someone shouted.
       Andron spun on his heel to face the aggressor. "You're not getting me! I can see it, I understand your game! You might have gotten her, but you're not getting me!" He shouted and felt froth at the side of his mouth and watched little colourful droplets of spit fly at the alien. The Trisken jumped back slightly, from the onslaught of shouting - or so he thought - he then noticed that it was grimacing in horror and wiping its face of the liquid.
       Water. Water is its weakness! He could feel a flash in his mind, as the idea permeated. Douse them in saliva, or through something at them. I'll save Mari, I just need a big container. Something like a cup, but way bigger! He decided.
       The bathroom was busy, and it stank. He saw some other Humans, which eased him slightly. Deep breaths steadied him further. The walls were marked, scratched, and graffitied. Random words, many languages. Names, dates, places. He could focus on any of it.
       "Hey, your turn." Someone said as he felt his shoulder get tapped.
       Slowly he turned around, and saw a Human in his mid-twenties. Blue eyes, too blue. Bright, as if enhanced by some sort of cybernetic implant. "What?" Andron said, and he heard clicking. His mouth was dry, he couldn't even muster enough spit to swallow. His tongue slapped around his mouth like a piece of bark, or perhaps an old dry leaf.
       "Damn, you look messed up. Get some water." The man chuckled lightly.
       If I'm messed up, what would call yourself? Andron thought, staring at the skin-coloured metal plating for a face the guy was wearing. He wasn't wrong though, water was a good idea.
       The man lay a hand on his shoulder, and directed him with ease to face the urinal. Flanked on each side by huge people, he stared at the wall trying not to look at them. He could have sworn that one was made entirely of dark leather. While the other was completely made up of soft-looking fabric. Creatures he had never seen before.
       "So, anyway, I saw them and just ignored it." The leather person said.
       "Good, my advice paid off then?" The fabric person replied.
       "Yeah, thanks for that. I just needed to vent I think. I wish her well,"
       "Leather," Andron mumbled.
       "You okay, Human?" Andron ignored the man and looked down. A healthy stream, and a sweet release. Although, from the waist down he felt oddly numb.
       "I think he's pissing on himself," he heard someone say.
       "Watch where you're aiming, they'll kick you out for smelling like urine." Someone told him, but he could barely pay them any mind. Not while his mouth was so dry.
       The person next to him stood away from the urinal, and as they did he heard rushing water. Sweet, sweet hydration. It was there, drifting down the back of the porcelain. It rushed as fast as it could away from him. It'll be gone soon! Now, or never!
       A hand against the cold felt great. The water ran through his fingers freely. Cupping his palm, he managed to catch some. Quickly, he lifted it to his mouth to drink his fill. It was ice-cold and went down smoothly. Almost instantly, he felt re-vitalised. The stinging clicking disappeared instantly. While he still had time, he scooped up another handful.
       "Wow, what are you doing! Don't drink that, Human!" Someone shouted, but it couldn't stop him, not now. Fits of laughter flooded the room, and he felt many eyes on him.
---
---