Another New MemeHive Account Muting Policy Rule
Effective January 1, 2023 any account posting to hiveme.me with a reputation score below 20 will be muted by @memehive. If the muted account can rehabilitate the account score above 25 @memehive has the discretion to unmute the account. This rule does not apply to accounts permanently muted.
Around two weeks ago a new account muting policy rule was announced and at least three accounts have been muted since then. That seems to have solved the duplicate posting problem but another problem remained and seems to have gotten even worse on hiveme.me. Every day low reputation score accounts post just a "meme" and nothing else on the post. Sometimes it's not even a meme proper but seems rather to be some random image.
Maybe it's their own work. No attribution is given and there's no way to verify ownership. Just posting an image without text makes it seem just as likely that an image was randomly copied off Google Images. I don't know and I would like to give the benefit of doubt but an account making a low effort post and having a low reputation score doesn't suggest the account has much credibility.
Having a low reputation score on the Hive platform itself doesn't prove an account is "bad". There was a time period in which @proofofbrainio had a low reputation score due to a downvoting campaign. That sort of thing can and unfortunately does happen.
Without any text an image posted on hiveme.me may or may not belong to the user who made the post. If an account with a reputation score higher than the 25 score every new account starts out with posts just an image giving the benefit of doubt is easier than trusting an account with an 11 reputation score posting the same image. Sometimes an account new on the Hive platform may not understand the fair use doctrine and copyright law. The new muting rule allows an account to go down to 20 before being muted due to this learning curve.
Accounts with a reputation score below 20 currently posting to hiveme.me have a month to change course and rehabilitate their account score. Probably the best way to do that would be to create posts with text to go with the image. Assume we're too dumb to know why the image you are posting is worth posting. Truth is most people won't spend more than a second trying to figure it out and might downvote that type of post. If it is your image state that it's your image. If you modified the image to make it transformative cite the original source and make it clear that the image is based on the source material. If you're use is derivative give the source along with text in the post that demonstrates why the derivative image is being used.
Source of Meme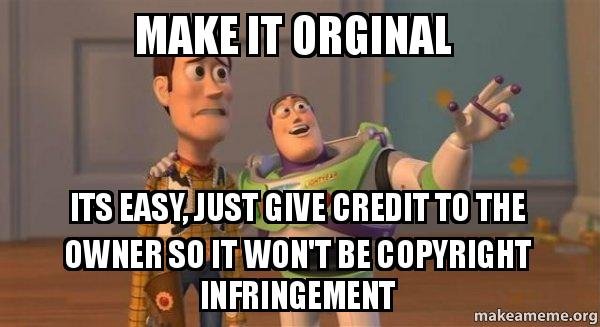 ---
---