What is Psyberx and what will happen 13th of May? 100 LVL tokens for a reblog!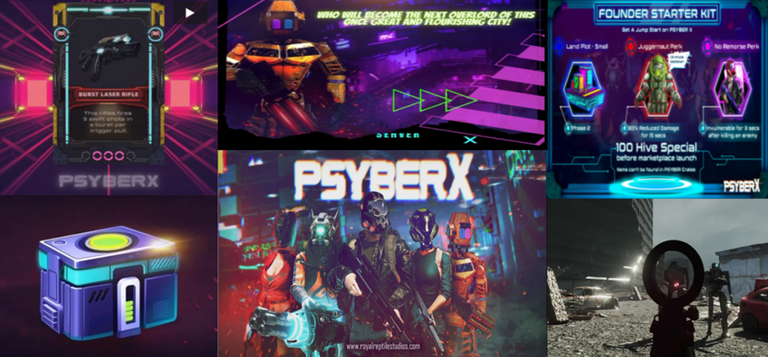 Screenshots from psyber-x.com
Evening fellow Hivers! I hope you have a great day in the land of Hive and are utilizing the ecosystem that Hive has to offer! I am enjoying it every day, there is always something to do- and learn here.
Anyways, figuring it was about time to write another post about Psyberx since it is soon launch-date of their Marketplace here, more specifically 13th of May.
This is probably a game that I am going to write a lot about mainly because I love first person shooter games and I am also actively investing in different asset classes. However, it was not my intention to write about Psyberx today but Mr. @dynamicrypto did put out a great incentive to go write a post right away. Ye… He did write this sweet little thing in Psyberx Discord channel below (you should follow it to for competitions and giveaways):

Now, that is a noble thing to do to the community! However, that is not the main reason why I am writing a post about Psyberx today. It is more like this:

He is talking about his post over here. I can get 10.000 LVL tokens if I beat his amount of upvotes by payday. He is totally right; it is not going to be easy. In time of writing, he has like 891 upvotes. Nevertheless, "he who risks nothing, gains nothing" or "no guts, no glory"! Therefor I am on to the challenge, I will try to beat that amount of upvotes! I know for sure I can't make it alone, I need assistance. I need fellow Hivers to do me a favor of some sorts!
Therefore, I decided that I will send 100 lvl tokens (the in-game currency in Psyberx) to anyone that reblog this post before payout before payout! They are not worth that much right now but if Psyberx achieve success in a couple of years you would laugh at this post in the future. Maybe even compare it to the Bitcoin Pizza Day (22 May 2010) where Laszlo spent 10.000 Bitcoins on a pizza. Next time it will be all over the news; "Troy G gave away 10.000 LVLs for marketing purposes" – that was an expensive marketing campaign seen with future glasses!
Jokes aside… in this post I will introduce Psyberx and its upcoming marketplace. If you are already up to date with the game and can't learn anything new see this as a summary, but if you are new to Psyberx this can very vel come in handy for you.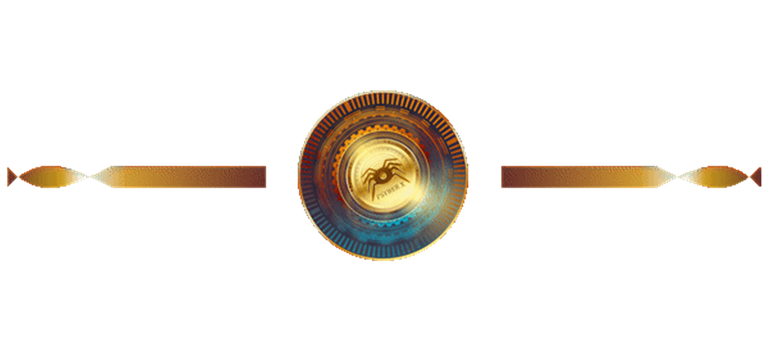 Psyberx is a First-person shooter (FPS) game centered on gun combat in a first-person perspective! It is going to be a blockchain game in a three-dimensional space – how amazing is not that!? Did you play Call of Duty (COD) or Halo? Then you will most likely get the same experience with Psyberx when they launch. Their plan was to release a double A game but did wreck that goal – now they are heading for a triple A game or the moon. Triple A games are the best games in the world. Games like COD, the last of us, Crysis and Resident Evil have these triple A titles, just to mention a few.
As well as being an FPS game, Psyberx want to bring true digital ownership to all that plays the game. It is a play2earn game and this means that you can earn items in game that play an important role towards your character - most likely better armoring and weapons that can give you an advantage when battling other players. It is also built-in assets like commercial land and simple land that will most likely earn you the in-game currency, which is the LVL token.
Not only will Psyberx create gamers and investors, but Psyberx will also open opportunities for artists and content creators here at Hive, earning even more in this connected universe.
Psyberx will take place in an apocalyptical universe where once beautiful cities are now a shadow of itself. The cities will be battlegrounds for bandits, outlaws, rogue robots, mechs and other villains that are all trying to have the most power. Furthermore, you can also work for peace of the land – you can become a teacher, DJ or even an entertainer and you can build your own version of the city land. Many of the mention roles will be up to you to decide. For now, it seems that the goal is to fight for most power, because with the most power one will become the supreme lord and supreme lords… vel ye… they are unstoppable!
The battlegrounds (which happens to be in cities) will consist of up to 50vs50 matches or free for all battles. You need to pick your weapons and armor before each match and your advantage depends on the number of weapons and armors that one has been able to accumulate so far. You could find weapons and armor on the map to keep on fighting, but they are not permanent (owning NFTs will make them permanent). This will be a fight where some have a bigger advantage than yourself. There will be robots (AI) around that will kill you if they see you. One does only have one life in a match, if you die you will need to pay your way back in – just as in poker tournaments.
Psyberx will feature NFTs in the form of cards (as many other blockchain games). NFTs will be like weapons, armor, cosmetics, housing, and the like. Psyberx is to no one's surprise built on a play to earn principle where one earns the token "LVL". This can be exchanged for HIVE tokens on Hive-Engine or Tribaldex.
This is a great moment to move over to the second topic of this article, namely the marketplace.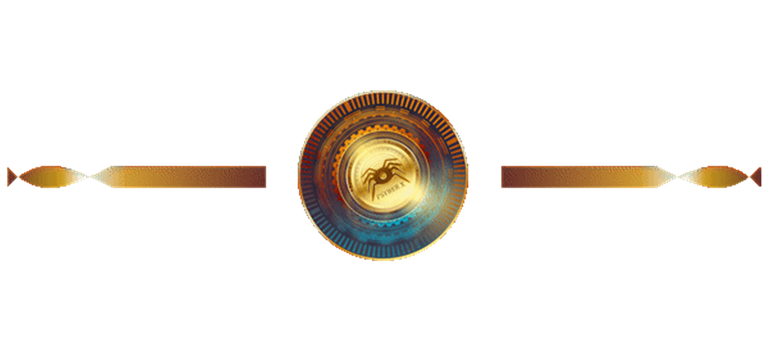 Vel, as sweet as it sounds a marketplace is a place where we can come together as both buyers and sellers of products. In the psyberverse marketplace that means the exchange of NFTs. The purpose of the marketplace is to create a place where one can acquire and get rid of NFTs and as well for the marketplace owners to earn commissions from each sale, which then again can be put down to developing the game even further.
A marketplace can create wealth amongst those who bring in some attention and persistent and at the same time show courage when other don't. A marketplace can be a fun place to be, especially when you can sell products that you have earned or created in-game. It is just like starting a business in the real world, create a service or a product and then sell it to customers.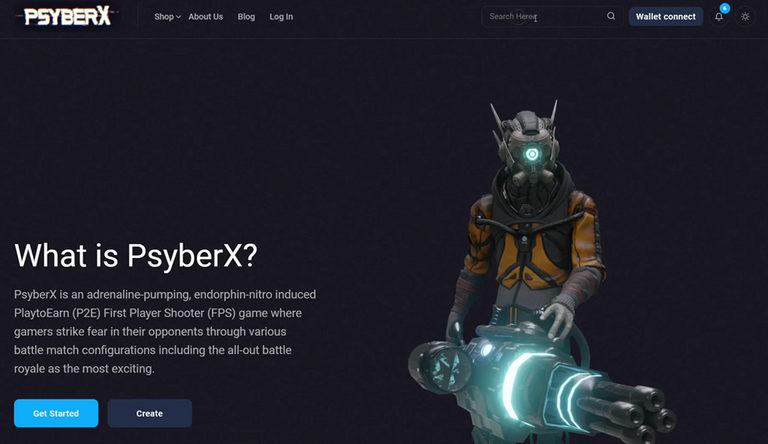 However, here is what we can understand from the upcoming marketplace of Psyberx which will be live 13th of May 2022! That is just a couple of weeks from now and is a new place for Hivians to hang out and make some deals! Wuhuuu - Opportunities, opportunities, opportunities!
As already written… NFTs can be bought and sold at the marketplace. If you bought NFTs in the presale period, they will be attached to your wallet when the marketplace launches. You will also be able to see your airdrops. Ye, you heard me, Psyberx has airdrops and they are called Special, Limited Edition airdropped Psyber Crates. That is a long name, but it is an airdrop, and it is special. What do I mean by special? There are 100,000 Psyber crates ever created and 10,000 of them are only available through airdrop. It is also worth mentioning that the airdropped crates have a much higher drop rate for legendary and above cards. How can you join the airdrop? By owning a commercial Plot, you get 1 crate per month. You could also just own/hodl 200,000 LVL tokens over a period of 60 days and you will be airdropped 1 crate (you get 2 before the marketplace opens for every 60 days). Each crate contains 5 cards with different rarities, just like the packs in Splinterlands. Another thing that is special by holding 200,000 LVL tokens is that you get a 30% discount on all crates purchased on the marketplace. Now, commitment certainly pays of and gives you some "extras", especially if the game gets millions of users! Which is one of the goals that the Psyberx team have written down and are fully committed to achieve.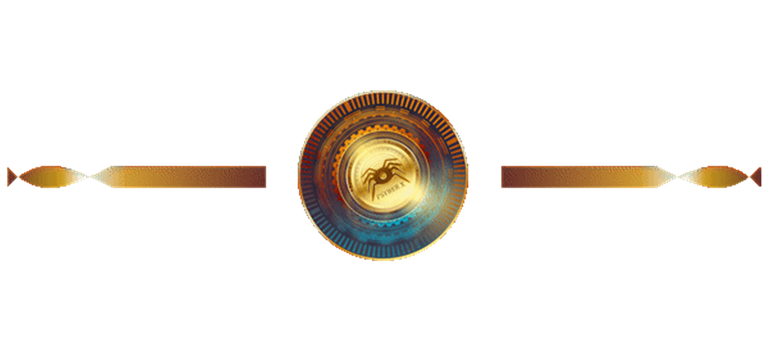 If you bought the Founder Starter Kits, they will now be linked to your Hive account and are viewable in the marketplace. It is still possible to acquire a Founder Starter Kit by sending 100 hive or 100 HBD to @Psyberx account and write in the "memo field": "1 or 15 founder starter kits, please". You know… 15 starter kits will give you the title "LAND BARON", just like landlords got their titles back at the 18th century! Now, that is some real cool things going down. It's all about titles! Who did not want to be titled "the gladiator" in the PVP-arena of World of Warcraft or a "champion" in Splinterlands? PLEASE NOTE that the cost of a Founder Starter Kit will increase from 100 Hive to 300 Hive once the marketplace is live!
Anyways, all your other beloved NFTs will have the possibility to be listed for sale or even for rent (mmmmm… passive income creates whales they say) when the marketplace launches. Worth mentioning is that the rent is possible but won't do you any good until you can play the game.
So, once the marketplace is open on May the 13th, I am hoping to see some posts bragging about the collection of NFTs they have acquired – I might do it! (Looking at you @finguru) Because ye, it is really nice to see NFTs in front of you by design and not just thinking of them. I will be very excited, and I can't wait for the marketplace to be released! It's like when a child is looking forward to Christmas Eve – I can't wait to open and look at those shiny NFTs!
Next time, (after the release of the marketplace) I will go more in detail into the NFTs that is presented to us. Give them some thoughts and how they can be utilized – or at least how I think they can be utilized! If you like the post do not hesitate to give it an upvote – I have a competition to beat!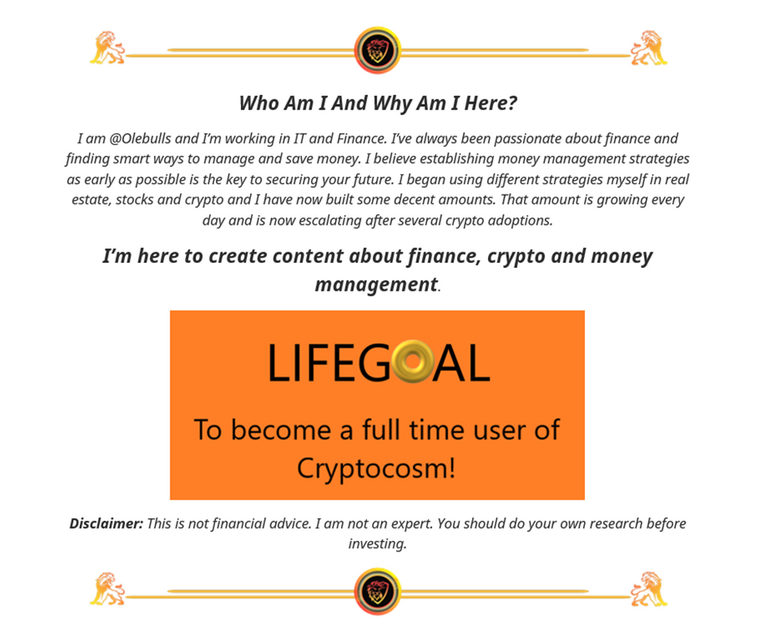 Cheers
-Olebulls
---
---