3 Days of HIVEFEST7 Day 2 summary with timestamps

Hello dear hive community. Just a week ago I was still in Amsterdam and licking my wounds after drinking way too much on the closing event. But this is not about my hangover but rather a summarization of the evnts that took place on day 2 and 3 of HIVEFEST7. You may find it odd that I use numbers 1-3 instead of 1-4 but this is because I consider the first opening day as day 0.
HIVEFEST7 Day 2
day 2 started a bit too early for me to be on time but I managed to still get there while the first presentation was still going. Almost I came a little bit too late. The venue of course again was awesome I was very curious how it would play out to have a blockchain conference in a church but all in all it was amazing. The Zuiderkerk was a great place and the only negative thing I could state would be the accoustics. Due to the churchyness (is that even a word?) of the building you could hear all the chatter in the background while listening to the presenters. But in the end it was not too disturbing, at least from my point of view, I don't know how the speakers felt about it.
Without further ado let's go through the presentations on day 2.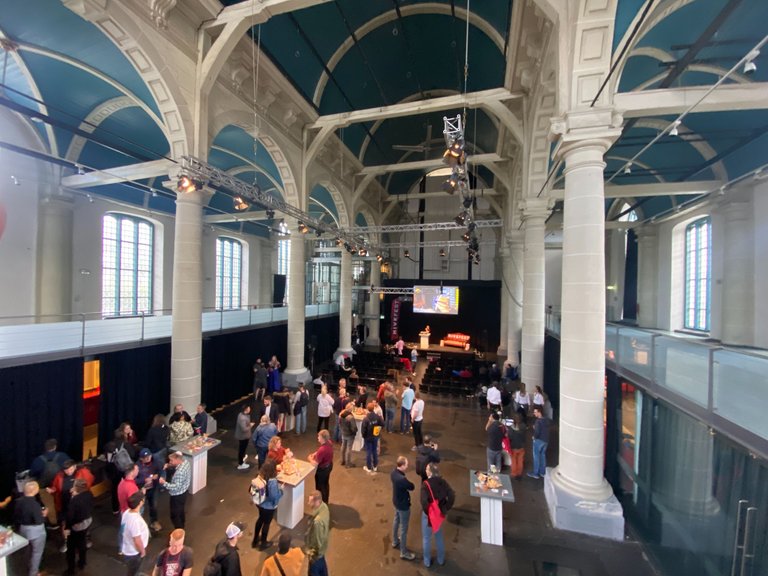 Not only did the awesome team around @hiq or for the english version @hiq.magazine do an amazing online presence for their magazine but on hivefest they made the big step to make a print version of their magazine with the MVP (most valuable poster) being @roelandp
HIQ magazine is a monthly issue that is posted in 2 languages German/English every month. If you want to subscribe to the magazine it is really easy! Just go to one of their latest posts and type this command: !SUB This will enable a bot done by @quekery (correct me if I am wrong) this bot will notify you when the freshest issue is ready to be read! Cool? I would say awesome!
Check out the presentation on youtube by clicking on the image! It should start at that timestamp:
19:51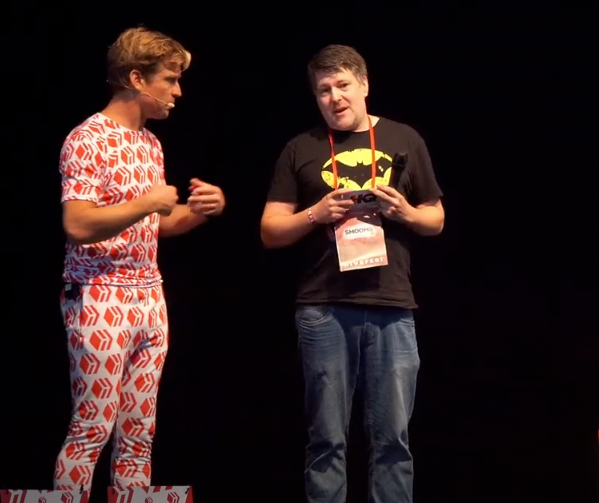 The outfits of
@roelandp
was just amazing again! And if he reads these lines I hope he can hook me up with some of this awesome swag. I would love to stream like this ;D
Great presentation of HIQ and of course very stylish! Maybe there will even be a spanish version soon? If you want to get involved with HIQ more and even write something for the magazine reach out to them!
Scan the QR code and LFG!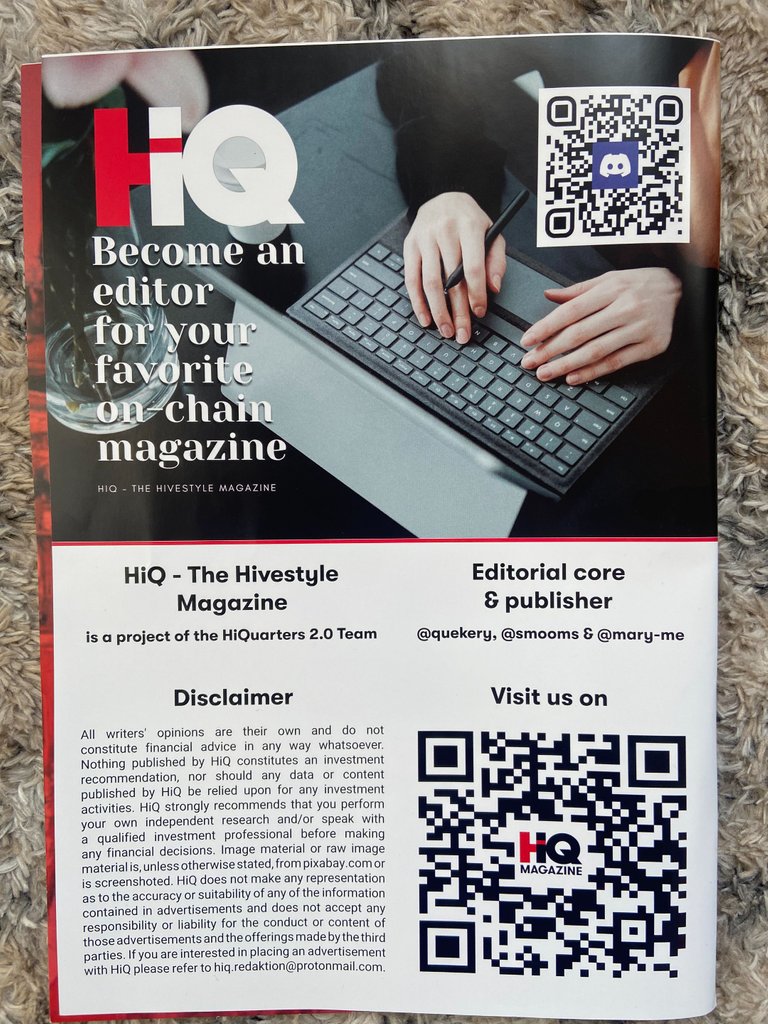 photo of my beautiful carpet with HIQ magazine contacts.
The DISCORD can be reached HERE as well!
OCD
Original content decentralized or OCD is a community on HIVE and also one of the biggest curating accounts. @livinguktaiwan talked briefly about pinmapples treasure hunt which had a price of 1000 HIVE for anyone who could crack the code. There is a post by @pinmapply about the Treasure hunt and you can see the winning teams reaction in this POST by @coldbeetrootsoup (as before they are set as 10% beneficiary as their soup was amazing!)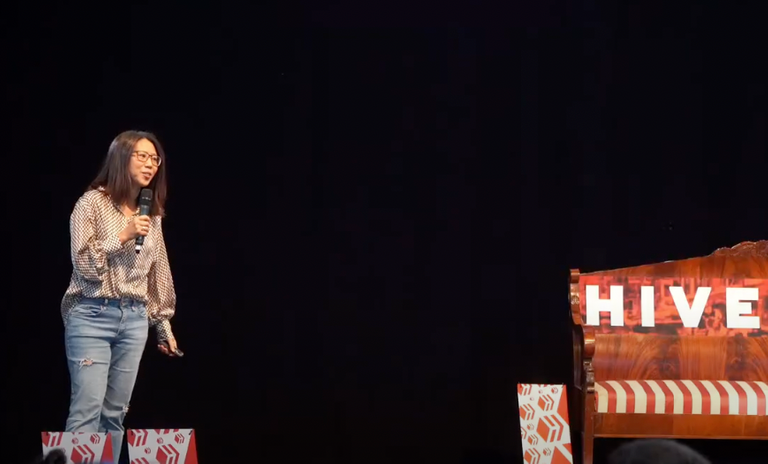 screen grab from youtube recorded stream
So back to OCD or OCDB as some may remember from earlier days.
OCD is run by @acidyo and unfortunately he was "out in the metaverse somewhere" and @livinguktaiwan presented on his behalf.
OCD is one of the largest curation programs on hive concentrating on undervalued posts and only original content. They exist for 5 years now.
OCD is also playing a big part in retaining users who post for the first time on hive. Their bot @lovesniper is actively scanning for the accounts who post for the very first time and leaves a comment and encourages the users to create an introduction post.
The community incubation program encourages users to explore the multiverse of communities on hive. Check out the linked post to find out more.
Livinguktaiwan also talked about the POSH program or proof of sharing. If you share hive content on twitter you fill find a comment by @poshtoken that will earn posh tokens for the account who shared the content. You can share your own posts on twitter or someone elses. Proof of sharing is an important part to drive organic traffic to any hive frontend. The more we spread the word about hive on web2 social media the better the chances of onboarding new users to hive.
You can also delegate HIVE power to the @ocdb account earn daily liquid hive returns from curation rewards. If you need more information about OCD and POSH you can find out on their discord channel that can be reached here https://discordapp.com/invite/YGVAvvm
Peakd Open Projects @jarvie
Next up was Jarvie, member of the winning team in the Balls of steel tournament talking about Peak Open projects and the presentation was done in an excellent way. One of our more confident speakers on stage.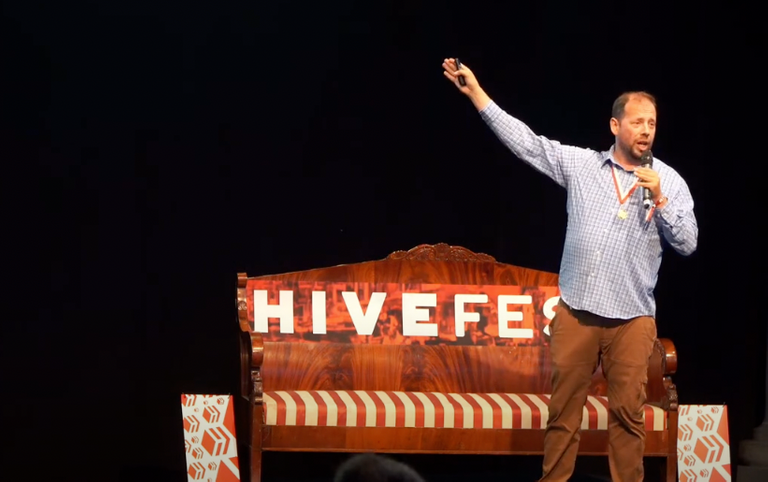 screen grab from youtube recorded stream
Peak open projects is a group project to benefit the entire hive ecosystem.
This project is targeted on developers but if you have an idea for a feature on hive that is not there yet you can talk to these developers and maybe there is a solution that can be implemented.
Watch the presentation on youtube: TIMESTAMP

check out the regular updates posted by @peak.open
There is many interesting projects being worked within the open projects and you should check it out for yourself. For my part I am really excited about the encrypted messaging service I hope we will see that soon come to reality. Watch the presentation!
Carbonds presented by @lecharles
I had to go for a break at this point since I was still hung over from the Balls of Steel tournament, but the importance of this topic made me rewatch the presentation. You should check it out too!
The project is backed by a french governance program and they have already raised a significant amount of FIAT and Crypto.
https://carbonds.io/ is a platform they for reducing the carbon footprint of companies with the help of NFTs, you can watch the presentation with this TIMESTAMP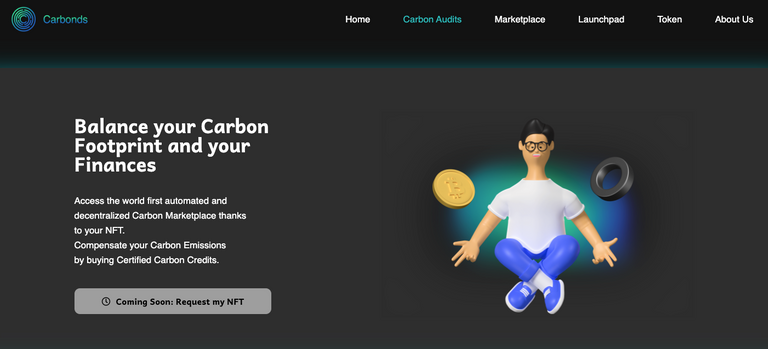 Who is Satoshi Nakamoto by @lrock
This was a very interesting presentation that I can not really sum up in a few words, I strongly recommend watching it on youtube! Do it, it was a very interesting and fun presentation to listen to.
TIMESTAMP
Hive Authentication Services presented by @arcange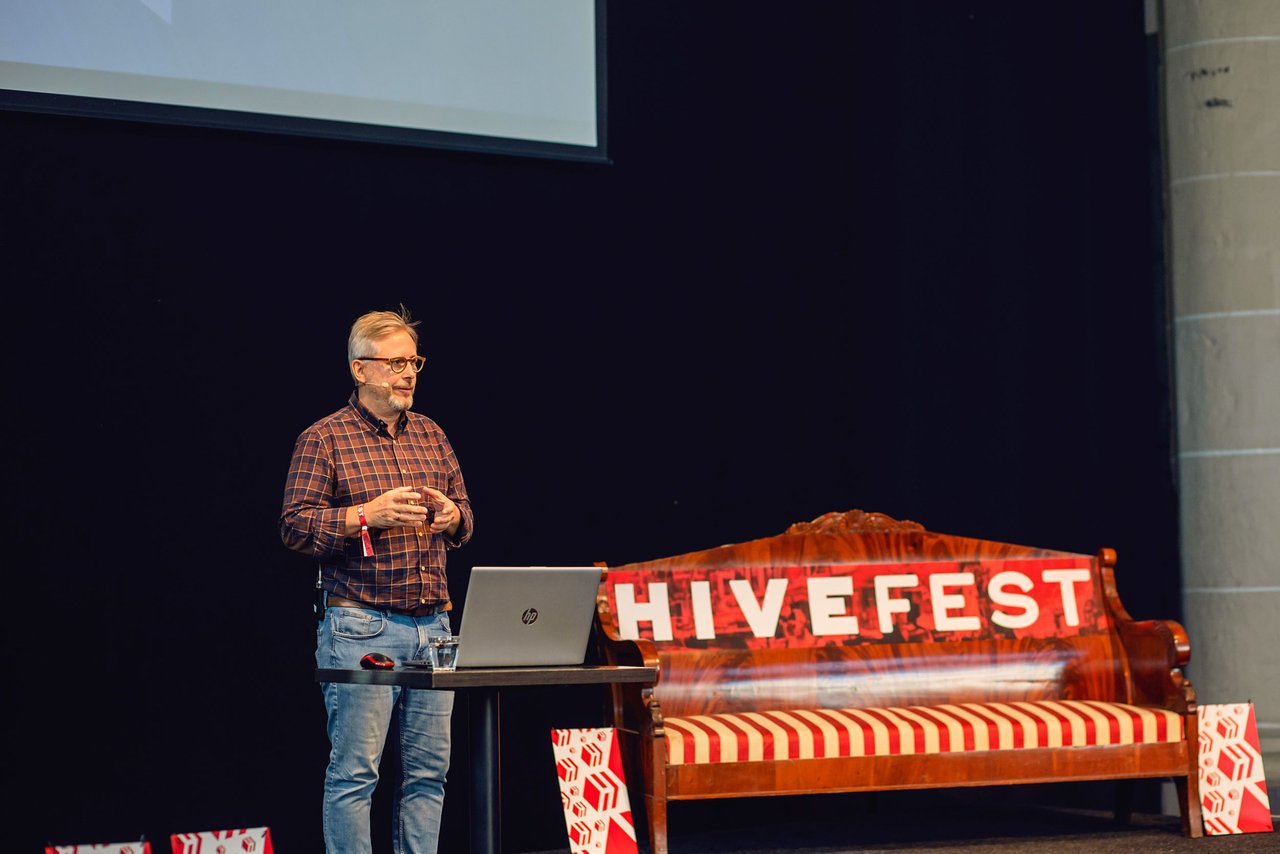 photo by @bil.prag from his post about hivefest: BIL.PRAG HIVEFEST DAY 2
For me this presentation was eyeopening and really well done. After short minute of silence for all of those who lost their keys or got hacked or their account got compromised the presentation started.
Did you know that you can log in to a few dapps on hive on any device without having to store your keys on it? This is possible if you have the keychain app on your phone. This makes it the best way in my opinion to log in. The only point of failure is you ghiving someone your phone and entering the code for the keychain app. I suppose you will not do that.
Also the login will only be active for a certain period of time. So even if you forget to log out for some reason, after the session expires you will be logged out automatically, which happened to me while writing this post.
You should check it out yourself how easy it is done! This takes you to the presentation TIMESTAMP thanks also @detlev for letting @arcange log into your account for demonstration purposes. Well technically you logged in on his device.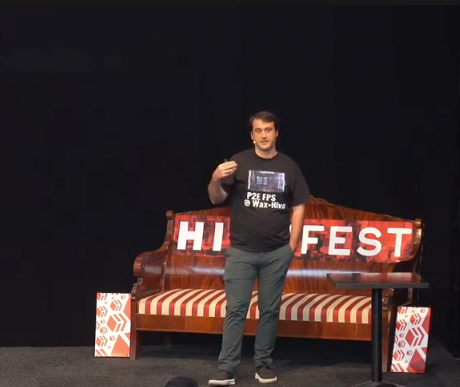 screengrab from youtube
If you have not played cryptoshots yet, you should try! It is an FPS shootergame on WAX and most recently also on hive. Actually you will be able to use hive authentication services to log into the game on https://play.crypto-shots.com/ but as long it is not implemented you can use hive keychain of course!
We got a nice demo on screen and we learned a bit about the NFTs on HIVE you can get on the Cryptoshots NFT market.
Check out the presentation as moving images can show more than my written text can!
I also had a nice talk with @keys-defender after the presentation and he told me to reach out to him on discord which is on my agenda for either today or tomorrow. I will be telling you more about it when the time comes. There was also 2 packs up for grabs and I managed to get myself the mythic pack which will be opened on one of my streams soon.
@edb and hybrid delegations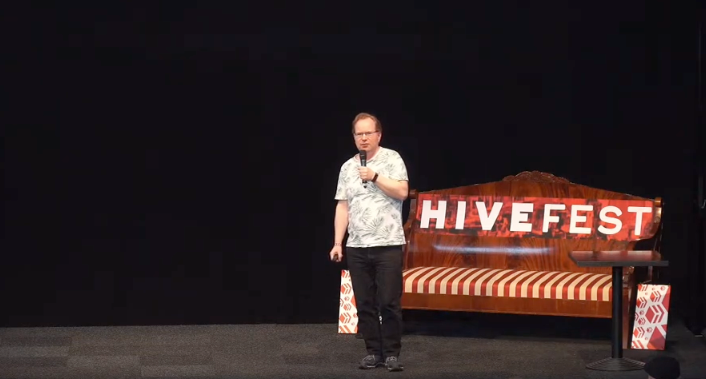 screen grab from live recording
I have not really understood everything in the presentation, but it is all about decentralization and you should watch the presentation for yourself, before the presentation started EDB asked us to sign a petition to free Alex Pertsev who was arrested in Amsterdam. He is the creator of an open source code that was used in Tornadocash. Open source is not a crime! hashtag freealex
You can sign the petition here https://chng.it/9g82zkW98W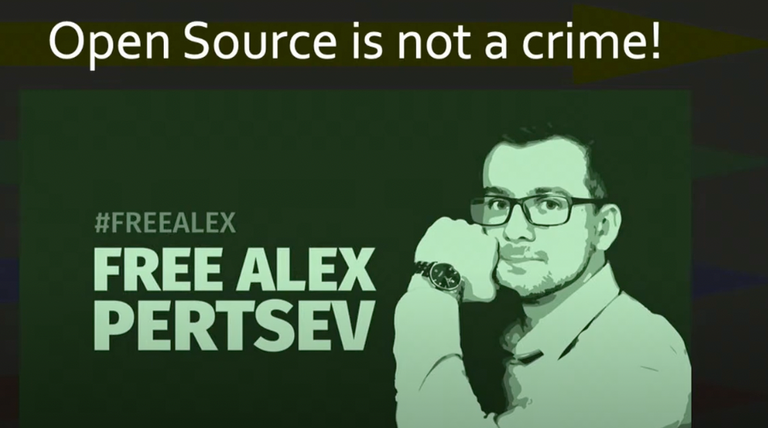 As I said for me the presentation was interesting but still I did not understand every aspect. You better all make a picture for yourself and watch it with this TIMESTAMP
SPK.Network presented by @starkerz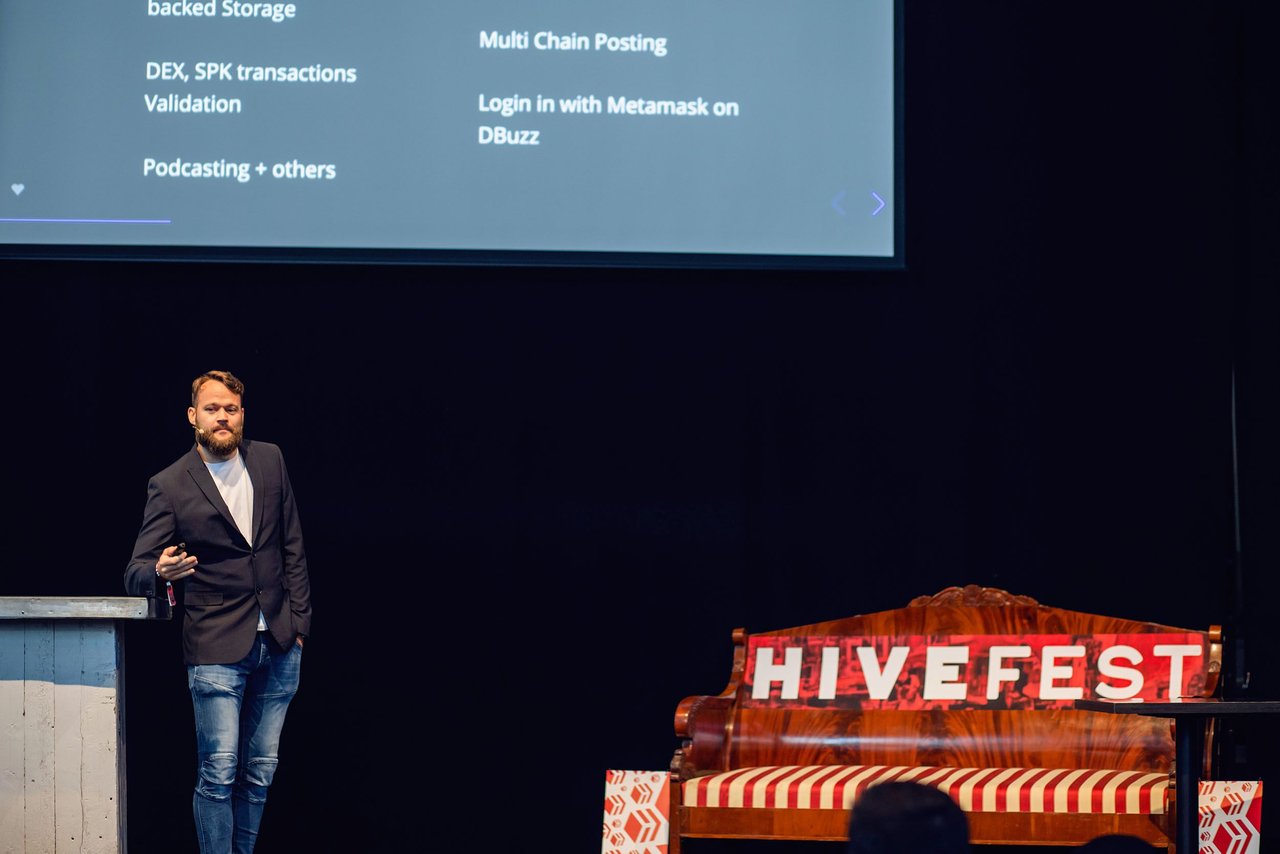 photo by @bil.prag
Starkerz did an amazing presentation of Spknetwork and I am excited to hear more about the project as it rolls on You can check the presentation on youtube following this TIMESTAMP
Basically it is about providing a sytem to reward infrastructure operators on hive. You can check out the lightpaper here: https://peakd.com/hive/@spknetwork/spk-network-light-paper
Check out the funding proposal for Spknetwork here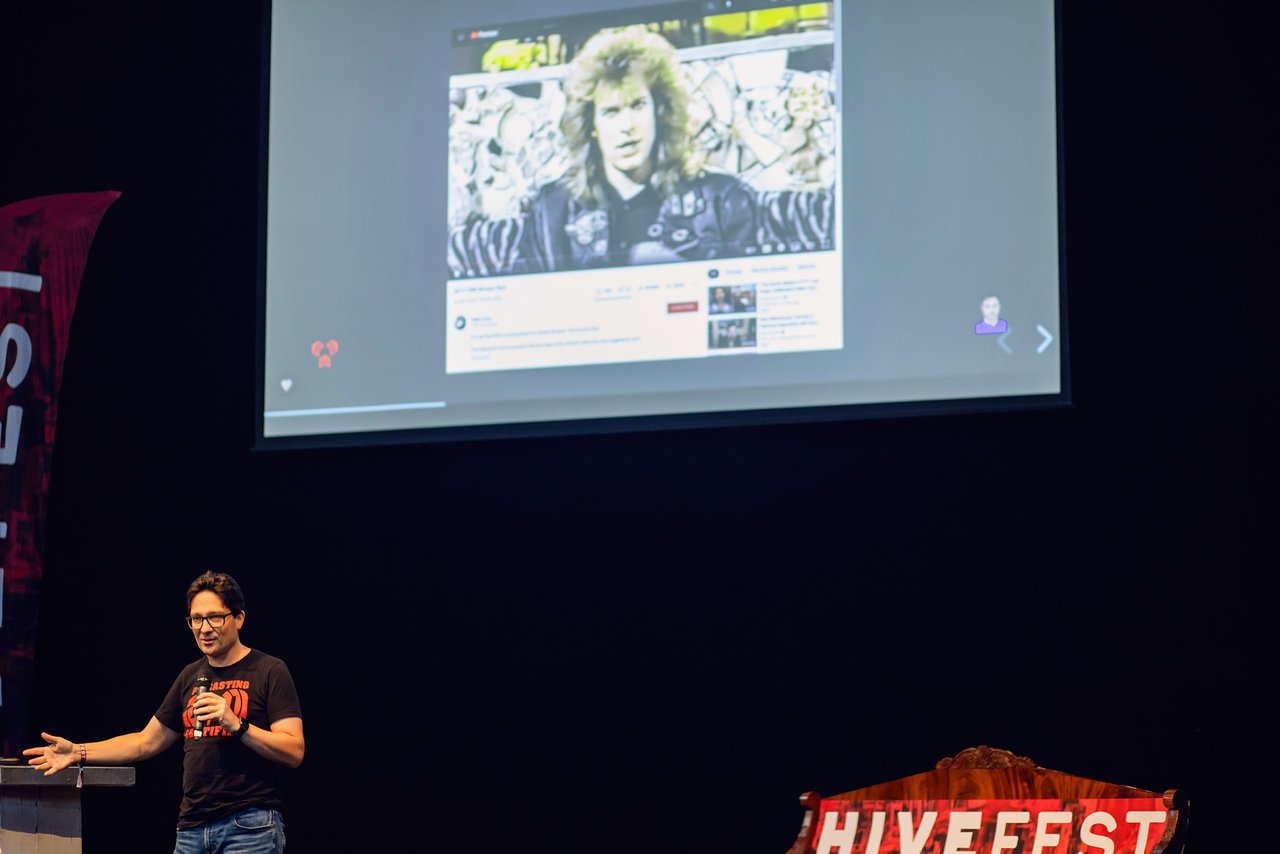 Revolutionizing the podcasting industry and how it can be done on hive. This was really an amazing presentation and I don't really want to summarize on it, you have to watch it! Taking the centralized way of indexing podcasts from apple and google back to podcast 2.0 certified on hive, this is possible and the HAF (hive application framework) will do a great deal to make this even easier. Possibly it could even be integrated with the SPK network and podcasts could be stored in a decentralized manner too. (just spinning some ideas here :D )
Btw. did you know that every 3speak video is a podcast and you can watch it in apple podcasts? I certainly did not. I a, just not sure how to search because I did not find my videos.
TLDR? Watch the presentation!
Important there is a project before podping that Brian is really passionate about and that is the value for value app. v4v for short. You can send and receive bitcoin with your hive wallet using the lightning network. I tried it and got myself a 25$ prepaid VISA using the Bitcoin Co. app. It worked! I couldn't add the card to my applea pay wallet since I was in Amsterdam and as soon as I was back on Austrian soil it was no problem anymore. So finally I could enjoy buying a beer with HIVE although it was not done directly but still an amazing thing to do. You can go the other way too: from Bitcoin to HIVE you can send any hive user satoshis and they will receive HIVE! A really amazing thing to do! You can generate a qr code with your HIVE profile picture in the middle. Everyone who can send Lightning can send you up to 200k satoshi.
This is a great way to fund your HIVE wallet if you can not access the centralized exchanges for any reason. Liquidity is a thing though so I hope at some point there will be ways to send a full BTC.
Access v4v here: https://v4v.app
Send me up to 200k Satoshis by scanning my address: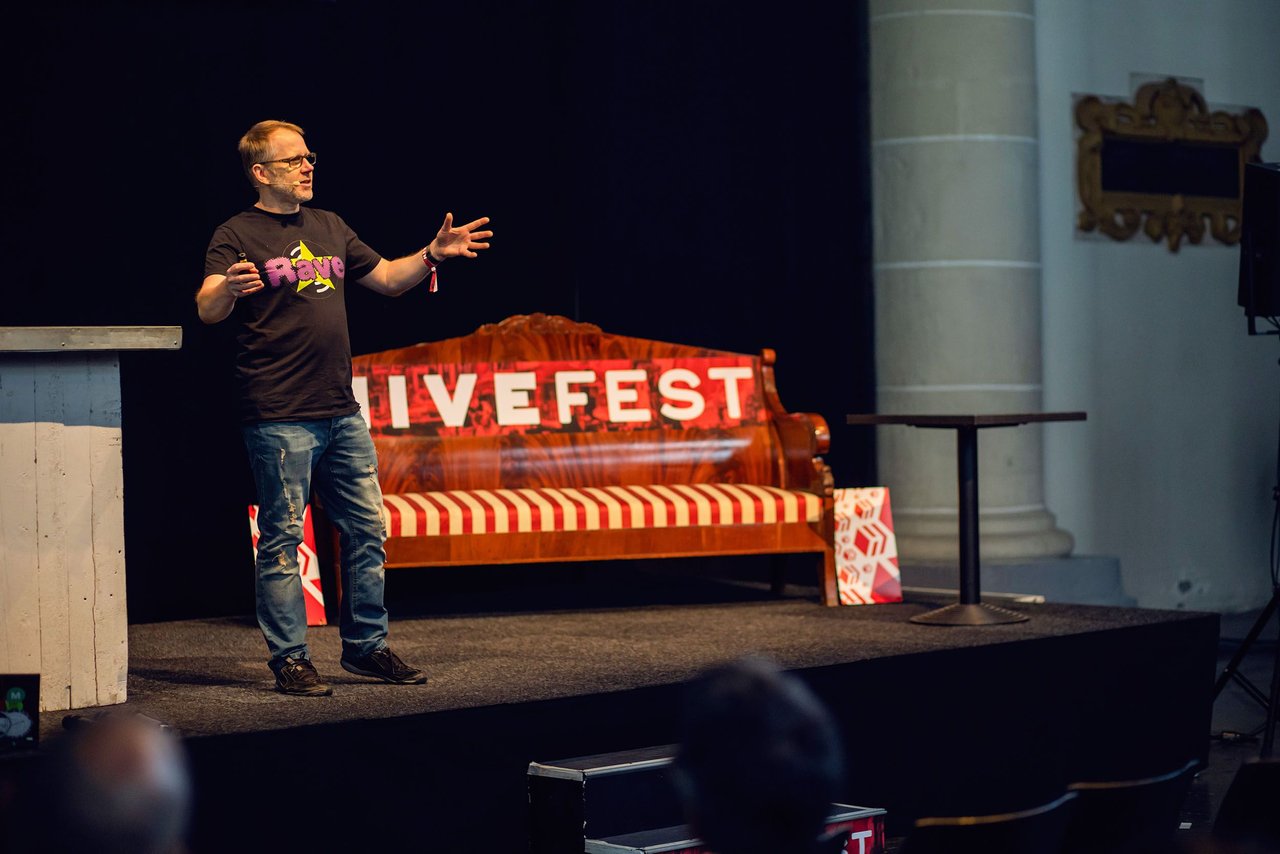 I really was looking forward to meeting Jux, we where both so busy making new contacts and talking to our new friends that we ended up only saying hi to each other, but next time I will be more brave to interrupt and we will talk!
The presentation started with @steevc playing the first few accords of "I'm gonna be big some day" and @tdctunes dressed up as a british police officer chasing him away.
Then the real presentation began. You can watch the full thing with this TIMESTAMP
Everyone who is playing Rising Star has for sure heard about the new feature called Raves. Well this has been introduced on HIVEFEST for the first time. Find out everything about raves on their Blog or read their latest update HERE
The game currently has a DHF proposal and if you would like to have more developments on the game in a faster manner you should defo vote for proposal number 226
It has been great to see you and next time we will talk more! Promise!
@tdctunes live act on modular synthesizer
This was just awesome and while listening to TDCtunes I also had some great chats with a bunch of hiveans. Watch the live act here: TIMESTAMP
Then Jux got on stage with him and sang some tunes to TDctunes :)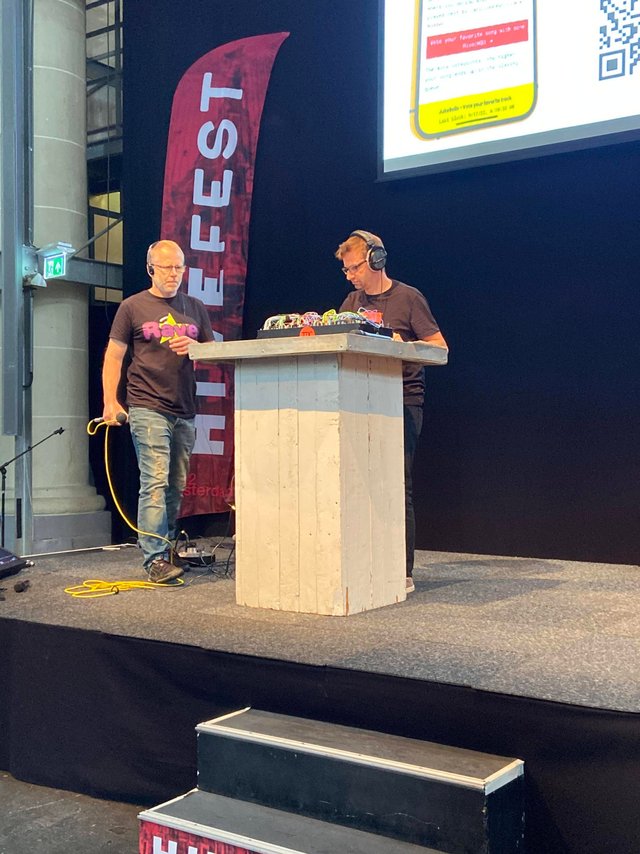 I also made some marketing moves for TDCtunes and found a real prominent spot where a lot of people pass daily: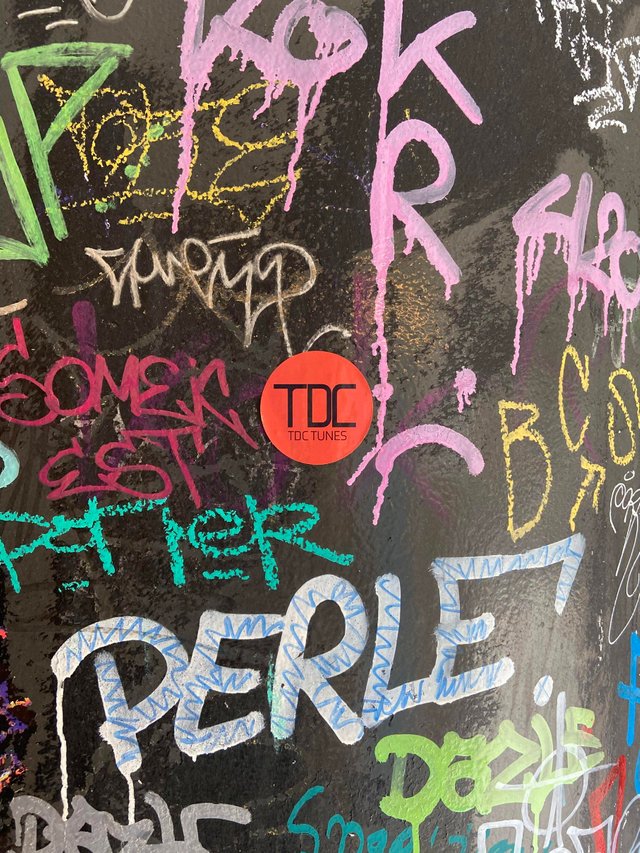 Jukebells by Gideon Bodden
During the whole day we could vote for our favorite songs and Gideon would play them for all Amsterdam to hear. There is no wordds for how cool this is so I will just put another timestamp right there!
The concert could best be heard from the square in front of the church where most of us headed to have some chats and where I got to talk to @delishtreats and we had a really nice conversation.
Beer or Poker?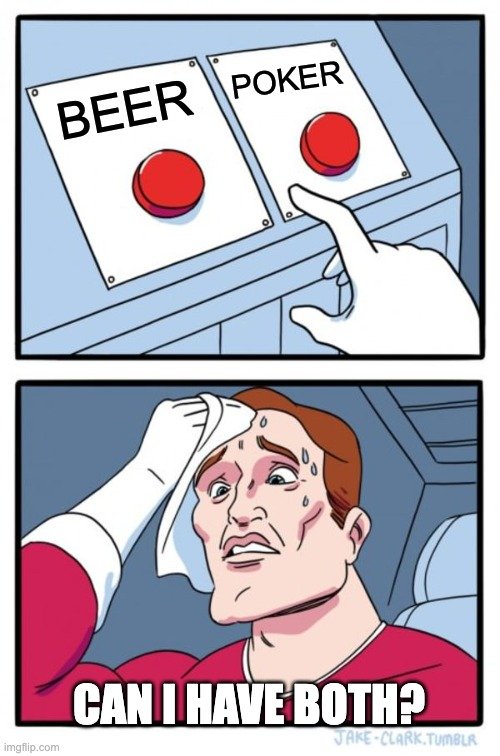 I love beer and @detlev was going for the Beersaturday with a bunch of people, @celestal organized a poker tournament and I really did not want to miss out on having some card game and a beer.
I ended up losing all my chips in an unlucky hand against @manncpt who also ended up winning the tournament.
Overall it was an amazing night and I had way too much of everything.
Stay tuned for my last update on DAY 3 (or 4 depending how you count)
Thanks for reading my post and if you liked it please feel free to share it wherever you want.
---
---