Why not question the financial system?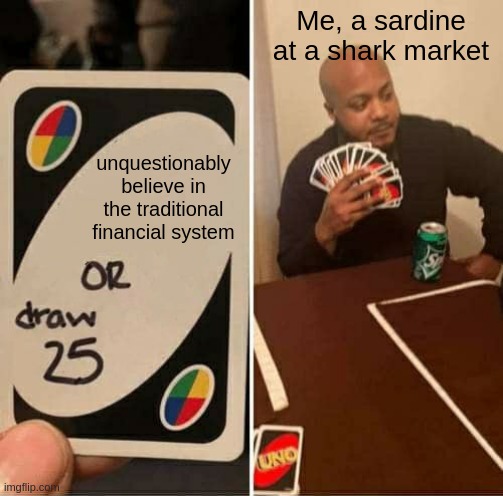 Would you believe it if someone said that you need to make your money worth less every day for the world to keep working? Would you believe in a system that lives on debt and the misery of the population as a whole? Would you trust a group of parasites that take part of your production to pay special bodies in the police to watch over you? So why believe in the traditional financial system? Why not at least give decentralized finance a chance?
If you agree with everything I've said, then you're on the right track, my friend. You're fighting the financial system as we know it, you're fighting big corporate sharks, and you're fighting for your very survival in a system where you're nothing more than a pawn
Sites like Odysee, Hive and Publish0x help democratize information among people, while sites like Presearch help with decentralization and impartiality of search engines and browser plugins that work as crypto wallets are great for educating people about the use of cryptocurrencies (although there are better methods to store your cryptos, such as cold wallets, wallets like Metamask are still the most used alternatives for their practicality) and even brokerages are used due to their ease of use in relation to peer-to-peer purchases to-peer for beginners (I won't recommend any because of the recent scandals involving several brokers, but you can easily find brokers on Google). Do you want to participate in this revolution along with me?
When you are more advanced, you can start learning about DeFi (at Hive, my preferred platform is TribalDex, but there are others, and they exist in almost all crypto networks that support more than one token) and about self-custody, learning to difference between custodial and non-custodial wallets. Good luck ❤️
Don't forget to always use the meme tag in your memes, to win the best meme token in all of Hive, and to participate in the best humor community in all of Hive
Posted using MemeHive
---
---