Splinterforge daily common card giveaway #120

Welcome to my Splinterforge giveaway!
---
Hello there Splinterforge community!
I´ll make some Splinterforge giveaways in the future!
If youre a Splinterlands Player and not playing Splinterforge atm i really recommend all to start playing.
You can play for free with your Splinterland cards and earn some money.
in this giveaway you can win the following card:
Servus an die D-A-CH Community!
Ich werde in Zukunft öfters Splinterforge Giveaways machen !
Wer noch nicht Splinterforge spielt dem kann ich das Spiel nur empfehlen.
Du kannst dort gratis mit deinen Splinerlands Karten spielen und dir ein bisschen was dazu verdienen.
In diesem Giveaway verlose ich folgende Karte: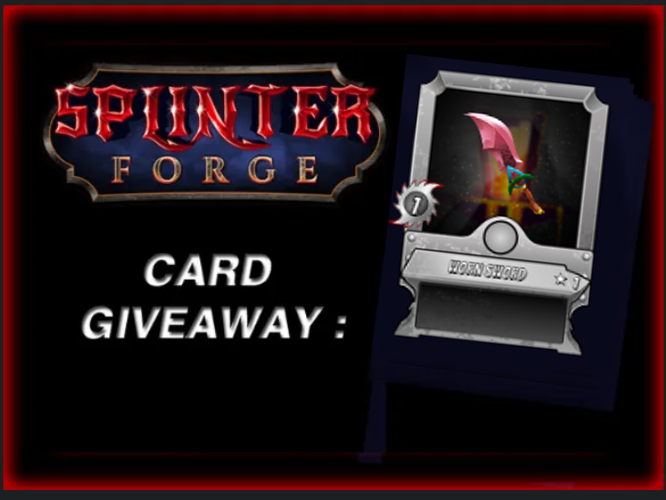 Rules for this giveaway:
Comment on this post

If your Splinterforge username is not the same as here, put it in the comment

You don't need to upvote, follow or reblog, but is greatly appreciated (such as beer, pizza, luv, etc.) and will help increase the rewards of future giveaways

Your reputation level needs to be 25 or higher.

Only one single comment per Splinterforge account will be eligible.

For choosing the winner i will be using https://hivetools.up.railway.app/picker/... and Yes the Winner will receive the chosen card in the following 24h!
Thanks for participating and good luck! 🍀
See you all on the Splinterlands battlefield!🏹
Wie es funktioniert:
Kommentieren reicht.

Schreibe deinen Splinterforge Namen ebenfalls ins Kommentar, damit ich dir die Karte schicken kann wenn du gewinnst.

Du musst mir nicht folgen oder upvoten, jedoch freue ich mich sehr über jeden neuen
Follower, Upvotes sowie über PGM PIZZA LOLZ usw. bei den Kommentaren und hilft
mir um in Zukunft bessere Preise bei den Giveaways zu verlosen.

Dein Reputationslevel muss mindestens 25 sein.

Du kannst pro Splinterforge Account nur 1x Teilnehmen.
Der Gewinner wird per Zufall mittels https://hivetools.up.railway.app/picker/... gewählt und erhält seine Karte innerhalb 24 Stunden.
Vielen Dank fürs Teilnehmen und Viel Glück!🍀
Wir sehen uns auf dem Schlachtfeld! 🏹
---
Last Winner ( Letzter Gewinner):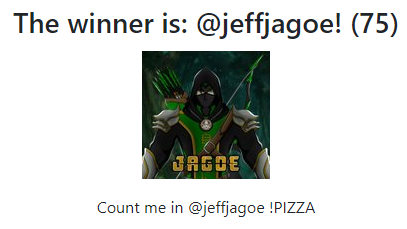 Previous Participants (Letzte Teilnehmer):
@yeckingo1, @ebastion, @monsterbuster, @tariksaran, @blitzzzz, @ladymisa, @subidu, @daethical, @outwars, @ynwa.andree, @henruc, @rtonline, @stamato, @kryptof, @circlebubble, @bitandi, @olaf.gui, @jfang003, @jeffjagoe,
Have fun playing Splinterforge and see you on the Leaderboards ;) !
---
--- No financial advice! D.y.o.r. before Invest ---
---
---