This is the Golden Pepe - Reblog For (Unlimited) Wealth Meme

Have you reblogged this Golden Pepe for (unlimited) wealth?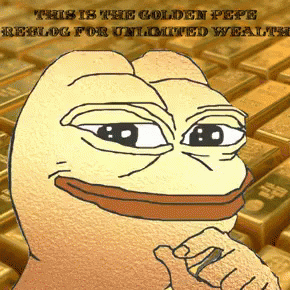 source
Do you even believe in a golden Pepe if it is right here in front of you?
May reblogging this Golden Pepe give you unlimited wealth? Or might you have unlimited wealth already. What might you have unlimited wealth of?
Maybe the blockchain has the unlimited wealth containing all these tokens that it gives out and rewards over blocks of time.
Maybe reblogging this post of the Golden Pepe may get you some Pepe tokens of some sort.
Reblogs of yester ̶y̶e̶a̶r̶ day: @andy-vibe, @kennybot
(Un)limited token rewards: 100 PEPE, 0.001 RPEPE, 0.01 PEPECASH
Feels Good Man!
---
---