Meme Contest Submission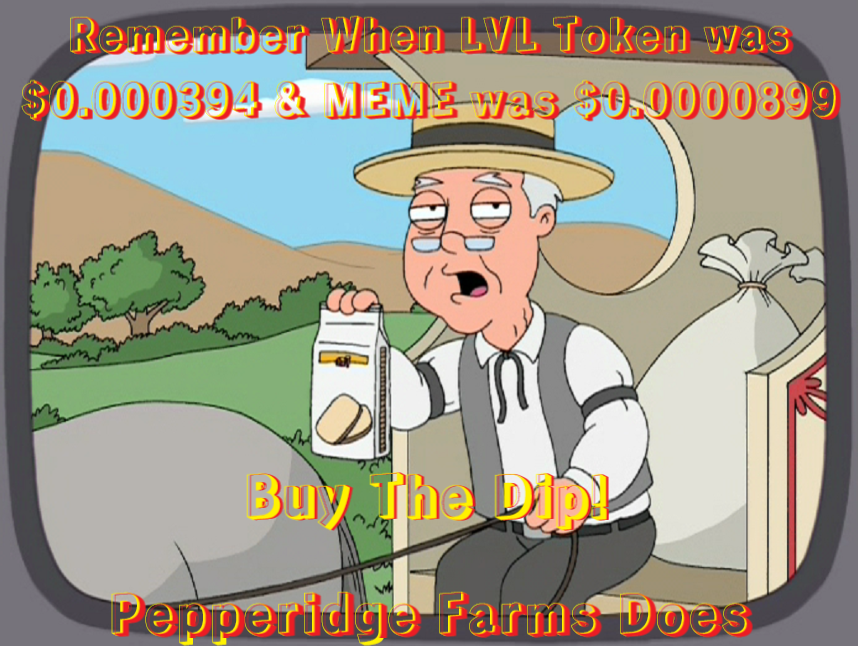 A Remember the day Meme
Contest Submission for MEME Contest
I chose a MEME & LVL Token combination meme for my submission since I think these prices are a once in a lifetime opportunity.
They might slip a bit lower bouncing sideways throughout this dip yet Memes are a great marketing tool and could explode as well as LVL token being this low with game testing recently started and version 0.0.2 of the pre-alpha already in testing with bug fixes in the new patch done within a few days and surprise to come with the next version to be announced.
Join us in Meme discord at this link
Join us in Psyber-X (LVL Token) discord at this link
Thats it, a dumpster fire post by the Psyber-Spammer himself (me), will be sharing this to Twitter for some Hive onboarding as it earns Hive, HBD, MEME, THGAMING, PGM, OPG, NEOXAG, PIMP, LEO, POB & BEE Tokens in curation rewards 7 days after posting!
This post will also earn me some POSH Tokens for sharing it on twitter, a great onboarding reward giving you reasons to also share it on Twitter and your post links.
Join us for a Psyber-X Meme Contest being launched in the next day as this contest ends by @psyberx on their twitter found here on this link
Come onboard to Hive with us and remember we have 4 games planned and next in testing is Psyber-Decks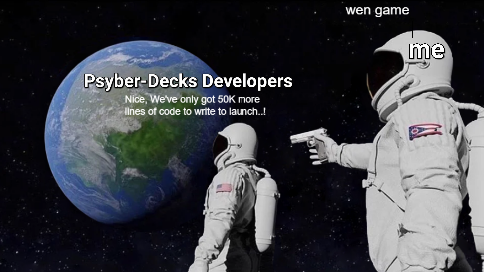 Thanks for visiting, below are some more Psyber-X links and information from recent posts shared for informational purposes for those interested.
Witness Votes
Consider supporting the several Witnesses involved with Psyber-X or setting me as proxy for your vote with instructions just below
Witnesses we support
No time to research who to vote yet want to help?
To vote responsible Witnesses that protect free speach consider setting me as your proxy voter by following these steps
Log in at Hive.blog link here and go to the witnesses page.

Enter 'dynamicrypto' in the 'set proxy' box at the bottom of the page.

Click 'Set Proxy' and you are done!
Hive is a chainbase protocol which is an updated graphene technology on a dPoS chain that enables us to be decentralized where you truly own your crypto as you own your own keys.
A Hive Node does not require buying a license or any crazy Hive stake just upload the chain on your server and support the network. To earn well you should develop something adding value to Hive & power up some HIVE showing support if you wish to be successful at this venture.
Would be cool to see the chain change the reward structure change a bit to reward the top 200 witnesses in order to encourage more than the less than 100 active nodes to become quite a bit larger yet will be difficult to talk the top 20 into accepting such change as they are rewarded approximately 2,340 HIVE weekly while #100 gets around 20.
Did you know 50% of the top 40 Witnesses are powering down? Consider changing your witness votes to support those that support Hive & not cashing out during a bear market hurting the token.
Useful Hive Node Links
https://developers.hive.io/nodeop/node-config.html
HiveDevs Chat - https://discord.gg/B29Bbng
---
Thanks for visiting
The rest is slightly edited content repeated for informational purposes as well as SEO
All About Psyber-X
Psyber-X is a play to earn first person shooter NFT blockchain game.
Phase 1
Royal Reptile Studios is building Psyber-X to launch initially as a 10 versus 10 brawler where players will battle it out for Level (LVL) token and bragging rights. It is a switchable first and third person shooter game built on Unreal Engine 5.
Phase 2
Once the game is launched into closed beta, the next phase of development begins, the land 'between' the brawls - the PsyberVerse. With a myriad of mini-games and activities planned to give all of PsyberX NFTs, and those of our partners, deep utility within an expanding ecosystem and player driven economy, while continuing to develop the different FPS game environments available across the map
Future Phases and Updates
We will integrate lands and partnership advertising through them, this includes the possibility to 'broadcast into' the live PvP matches.
Psybercrates
Each Psybercrate holds 5 NFTs. You can buy them at http://www.psyberxmarket.com where you can connect your Hive wallet and pick up the latest and greatest NFTs. Purchasing of crates with LVL Hive or HBD now. 2 Crates purchased grants early access for Psyber-Decks & Psyber-Towers testing.
Psybercrate Accessibility
The current Psybercrates have a limit. There are only 100K crates. That may sound like a lot; however, nearly 10,000 crates have already been distributed/purchased. That leaves approx. 90,000 crates to go. This is the first wave of NFTs developed by Psyber-X. Just like games similar to Magic the Gathering(c), Psyber-Decks will allow variety for your NFT holdings. When MTG first came out, the first cards (called Alphas) became very valuable later on. Who knows if the same will happen with Psyber-X NFTs
Psyber-X NFT Utility
Psyber-Decks is going to be the first mini-game provided by these side developers (Psyber-Decks is not developed by the Psyber-X crew, but we're providing the information they need to be able to incorporate our NFTs). They've already let us know that there are several other games they're building at the same time based on gaming formats we all love, like tower defense, top-down shooters, and of course Psyber-Decks which is a turn-based strategy game. Therefore...if you own NFTs from Psyber-X, you'll be able to play all Royal Reptile games. With that also comes the ability to rent your NFTs to others who will play.
Renting NFTs/"Scholarships"
Similar to other games on the Hive blockchain, once Psyber-Decks is up and running, you will be able to rent out the NFTs you own to others. I also know several people who have told me they're buying crates to partner with others who will play on their behalf. If you're not familiar with this, the way it works is one person owns a set of NFTs. We'll pretend it's 25. They find someone who is really good at strategy games. The two join into a partnership where one plays using the other's NFTs and they split the reward based on a percentage they both agree upon. This way, someone who does not have the funds to buy an NFT can connect with someone who does and voila! a partnership is made and both are satisfied. Did someone mention risk?
Risk Based Games
First, let's discuss risk...In risk-based games, you ante up something with the chance of earning something in return based on your skills or based on chance. Psyber-Decks is a game based on how strong your NFTs are vs your opponent's and how skillful you are at challenging their attacks and defenses. Will bots be able to play? Yes they will. But just like anything, they'll have to be programmed first, and if you have better NFTs than the bots, then the bots lose and you take the winner's plunder. So your ability to win is not set in stone just because a bot is playing. You still have to use a strategy to beat your opponent.
---
Notable Posts
Official Lore Stories
Informational:
*The bridge is currently down for maintenance.
---
Financial Links
Buying Level 1 (LVL)
Hive
Buying NFTs
Myria Passes
---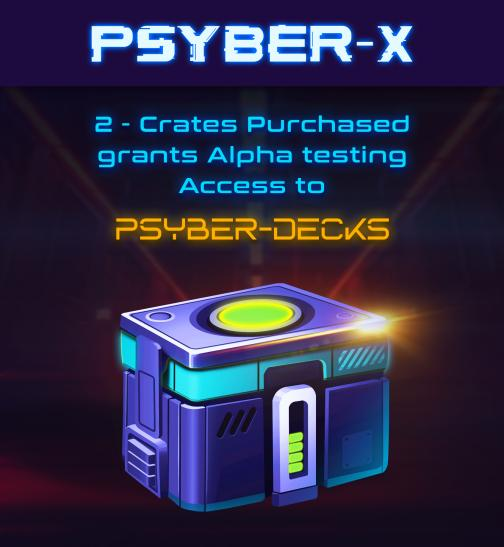 Psyber-Decks is a mini-game being developed to use Psyber-X NFTs. If you'd like to be able to play the game before anyone else, you simply need to buy 2 Psybercrates at Psyberxmarket.com for the Alpha testing access.
---
Social Links
---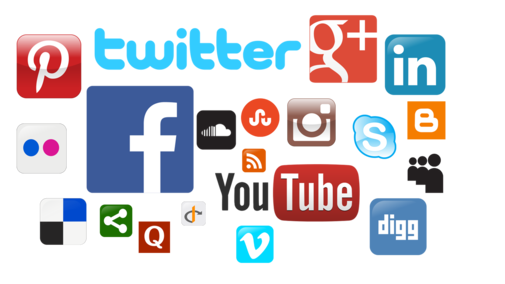 Psyber-X on Pimp Media

PsyberX on 1UP Zone

Hive account @psyberx

Twitter account psyberxofficial

Official Psyber X Discord Chat

Official Youtube account Psyber X

Official Facebook page Psyber X

Our Instagram account PsyberXofficial

The official Psyber X TikTok

Telegram Chat Invite
The Gaming Studio Royal Reptile Twitter

NftShowroom Psyber X Collection

Psyber X Blog on Reddit

Official 3Speak PsyberX Account

Whatsapp Chat Invite

Line App Chat Invite
---
Posted using MemeHive
---
---