How Hive's model might influence the future of online content creation
Greetings to my Cent Family and all of Hive. It's your young writer @skyehi back again to continue the series on Blockchain, Social media and Cryptocurrency. As I said yesterday, this is part of a new series that's going to stretch for possibly months.
The main purpose is to share my knowledge on Blockchain technology, Social media and Cryptocurrency. Through this series I hope to also find answers to questions that I may not fully understand yet. I'm pretty sure my very equipped Hive community will have answers for me.
Well in today's blog post I'll be touching on the topic of Hive's Model or Hive's Approach if you will. We'll be discussing some few points on how Hive's model might pretty much influence the future of online content creation.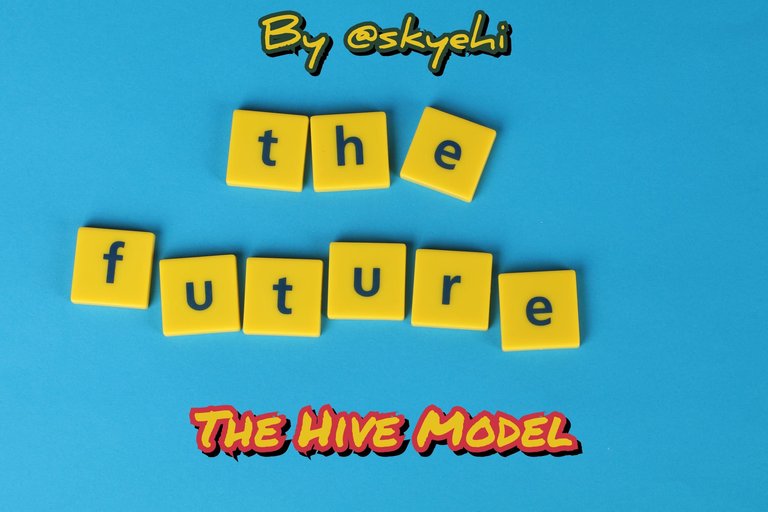 Original Image Source by Ann H from Pexels
In our modern world where social media is second to food, the Hive Blockchain or Hive social media platform pulls off a completely different approach to how social media works. The main difference between Hive and other traditional social media platforms like Facebook, Instagram, Twitter and YouTube is its decentralization and the fact that it's built on top of a Blockchain technology.
Of course we are well aware that Hive is not the only Decentralized Blockchain based social media platform out there. Infact anyone who knows the history of the platform is pretty much familiar with Steemit.
There are other Blockchain based social platforms like Minds, LBRY and even a video streaming platform called DTUBE. I'll make a separate blog post covering all of these platforms later on.
I believe the model or approach of Hive will completely change the way we create and share content online.
Hopefully as Hive spreads, gets adopted by everyone and becomes as big as Facebook or Instagram, we can finally bid centralization and censorship farewell. The times were one giant social media company or organization takes control over the data of its users will be long gone.

Based on the Blockchain concept that Hive runs on, it's very difficult for one person to control the entire platform.
On a platform like Facebook, the Meta company has full ownership and control over the data that users share on the platform. They can decide to do as they please with the content as long as they can hide it well enough from the public.
There has been a lot of cases where people complained about the safety of their data on Facebook which caused the company to go to court. Well the company survived it but who knows whether that really did something bad with user data or not.
This is what makes Hive very important. The reassurance that you the user has full control over your content and it's not exactly going to be manipulated by anyone.

One other thing I love about Hive is the control it gives to us over our accounts. I have my own keys and passwords and I have the responsibility of keeping them safe and using them as I so choose to. I own my data and I don't fear having any powerful organization censor it just because I want to speak the Truth.
I believe as Hive spreads across the globe, more people will become aware of the value, advantage and benefits they get being on Hive over being on traditional social platforms like Facebook or Twitter.
Hive's impact in the future will change how things work with social media. Not only will it skyrocket crypto adoption projects, but it would also bring full control of the world of social media to the people and not a few organizations that founded it.
This will give the chance for the people to control and regulate the direction of the social media platform to their interest. It essentially gives the power to the people.

Hive's model or structure has a way of bringing the people together to work together. It essentially creates a much deeper and connected community.
Since I joined the Hive Blockchain, I have gotten closer to my internet buddies now more than ever. I get to follow up on updates about my favorite Hive DAPP game, I get to ask people personally for answers to questions I may not understand and I get to contribute to an ever growing community.
This is the gift of Hive to all of us. A much more connected world on the internet. Since we are responsible for creating or determining the future of Hive, I believe with Hive we'll have the power to create a better tomorrow.
Hive has allowed for projects like the Cryptoadoption project happening currently in the state of Sucre were people get to purchase real life products and pay through their Hive Wallet in HBDs. This was a project initiated by the @hivesucre team and that let's us understand the power and potential of Hive to bring users together to think for the future.
---
We'll be taking about the DAPPs very soon but that's also something that the Hive model allows for. We get to create games, social platforms and other useful productivity sites that are all linked or connected to the same Blockchain.
So to answer the question on How Hive's Model will influence the future of content creation;
My simple answer is that in the end it will give the power to the people, it will create a more connected online community and it will foster the rise of powerful Blockchain baded projects.

Thanks so much for reading my blog post once again. It's always a pleasure to share awesome blogs like this. As always if you have any question or comment or even a simple suggestion regarding my blog post, I'll be happy to respond to it guys. Have a lovely day and catch you next time. Bye ❤️

You Can Follow Me @skyehi For More Like This And Others

---
---