Sterling silver bar from The Franklin Mint/ Re-blog lottery for a chance to win 3 HSBI!
Over the years I have moved around a lot. Mostly for a better paying job offers and I always have loved the adventure of being someplace new. It was fun discovering new places and what they had to offer. This interesting little item you see today didn't come from Alaska as you would assume, as a matter of fact Alaska is one of the few places I haven't been. I found this in a jewelry shop many long years ago in Tucson, Arizona of all places!
What I found intriguing was the toning and more specifically the weight of this silver bar. It is measured in grains, which at the time I had absolutely no idea what that meant. Silver for industrial use is often measured in grains rather than grams or ounces. This particular bar was made to be 1000 grains of sterling silver (a little over two troy ounces ) and was produced by the Franklin Mint in Pennsylvania. What's interesting is the front is embossed with the National Bank of Alaska. It was obviously meant as a collector's item so I'm not sure why they used grains instead of ounces or sterling silver as opposed to pure silver. Since it was such an oddity I picked it up because it was interesting.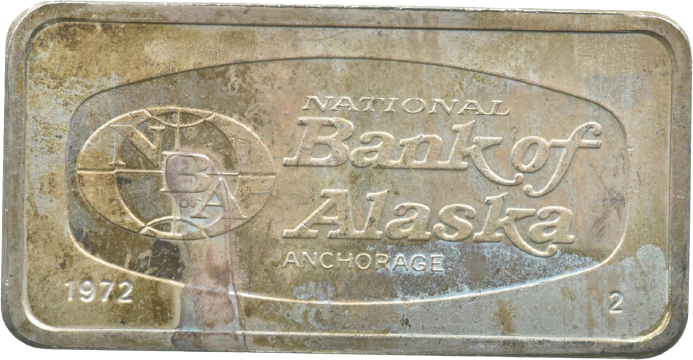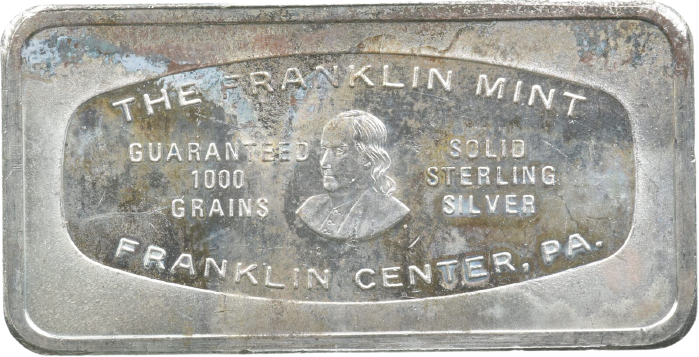 pictures mine
About this bar:
Composition 92.5% silver
Mint: The Franklin Mint
Year: 1972
Weight: 1000 grains (2.0833 Troy ounces)
The Franklin Mint was founded in 1964 selling collectible items, very successfully I might add. They expanded into bullion products in the 1970's up into 1980's. This was one of the items they produced in 1972. Although it isn't shiny and new like when it was originally sold I find the toning to be kind of a cool part of the bars history. It must have been kept somewhere humid for quite a period of time to pick it up. Silver bars are a great way to invest in precious metals and tend to have lower premiums to purchase than coins will. So if you're looking to invest you might keep that in mind.
Thanks for taking the time to stop by and read my post. I truly appreciate it! If you have any questions, suggestions, or comments please feel free to leave them below. Thanks again and have a great weekend!
And my disclaimer: Gold and silver stacking can be a fun hobby but isn't for everyone. You can lose money. I'm not a financial advisor and this isn't financial advice, please always do your own research before spending your hard earned money.
References:
https://www.buysilver.org/grain/
https://en.wikipedia.org/wiki/The_Franklin_Mint
http://coinapps.com/silver/grain/calculator/

If you enjoyed my post today you might also enjoy:
James Bond gold coin from Tuvalu
Silver one ounce bar by U.S.V.I. Ingot Company!
Discovering gold on the reefs of Florida!

Now for the winner of the re-blog lottery! Today we had people re-blog my post, thank you so much! The people who re-blogged were: @blitzzzz @evih @flaxz.alive @florakese @henruc @jmehta @kryptof @kungfukid @ladymisa @mirroredspork @olaf.gui @shasta @silvercoins @stekene @suriclicksmedia @thisismylife @trumpman @vrezyy @vaynard86
Thanks everyone! It really helps my engagement which I'm working hard to improve! If you have any recommendations or suggestions please feel free to let me know.
Good luck to everyone!
And the Wheel of Names results:
Congratulations @trumpman !
I just sent over the funds for your 3 HSBI units!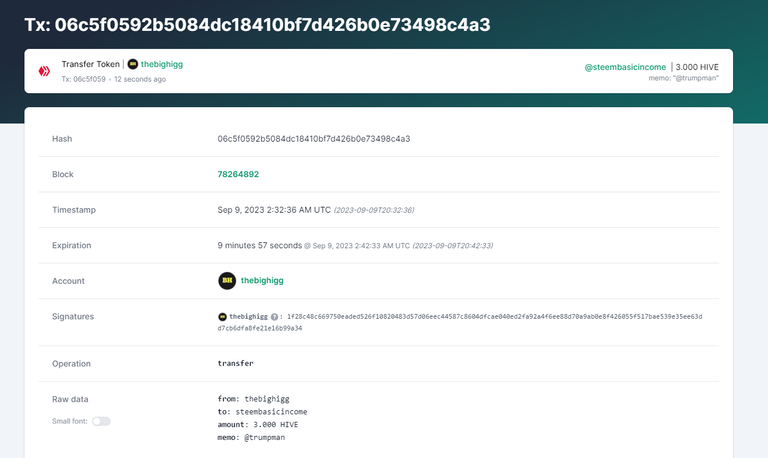 Now for today's re-blog lottery! You just need to re-blog my post you will be placed on the Wheel of Names for a spin to possibly win 3 HBI units! Just one prize for the lucky winner. Bots aren't allowed to enter please. Contest ends at 14:00 (2 PM) California Pacific time tomorrow. If I somehow missed your re-blog please let me know and I'll add you to the next draw.
What are HSBI units? They are units that you can purchase to sponsor someone and you in turn receive a unit as well. This way we both benefit! They give you occasional upvotes on your posts for a lifetime, and the more you accumulate the more often you receive upvotes and the bigger they can be. You can read some more here:
https://hive.blog/hive-189312/@steembasicincome/hive-sbi
If you have more questions feel free to ask.

---
---