Introducing the LOLZ Tribe - Now You Can Earn LOLZ When You Blog About #fun Stuff!

The LOLZ Tribe Is LIVE!
Hello again fans and users of the $LOLZ token. We are so excited to let you know that we officially launched the LOLZ Tribe today!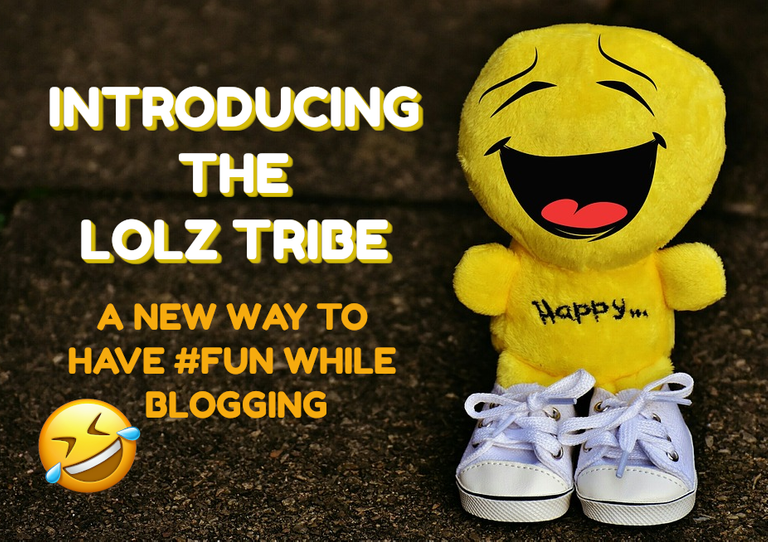 Now You Can Earn LOLZ Tokens When You Blog About Fun Stuff!
As we mentioned last week, today we enabled staking of the LOLZ token, and have started a reward pool, the two steps involved in creating a Tribe on the Hive blockchain.
What that means is you can now earn LOLZ tokens when you blog about fun topics and use our fun tags - #fun, #funny, #lolz, and #jokes. You will also be able to earn LOLZ when you post on LOLZ's Fun House or use the community tag #hive-155986.
You can also earn LOLZ when you stake LOLZ and curate posts using our #fun tags.
Tribe Details
We spent a bit of time trying to figure out just what each of the variables meant for the reward pool smart contract and hope we get things setup right. Some of the key things worth noting include -
Linear post and curation rewards. That means your upvote should be worth more or less the same regardless if you are upvoting a high earning post or a low earning post.

Rewards will be split 50/50 for author and curator. As is pretty standard, the upvote rewards will be split evenly between the author and the curator.

Rewards will come 50% liquid 50% staked. We elected to have 50% of the curation rewards come staked to encourage people to grow their stakes and thus their curation potential.

Just under 300 LOLZ rewarded per day. We wanted to reward our users, but at the same time we didn't want to create a massive source of inflation. So we elected a fairly small reward rate. Based on our calculations we expect the initial APR that can be earned by curators will be somewhere around 40-80%, depending on a lot of factors. Some in our control, some not. Early APRs may be crazy high... will be #fun to see!

28 Day Un-Staking Period. We selected what we believe to be a reasonable un-staking period. 28 days, in 4 7-day periods.
Those are the highlights, but if you want to see all the gory details, you can check out the image below which I created using one of @quekery's awesome bots.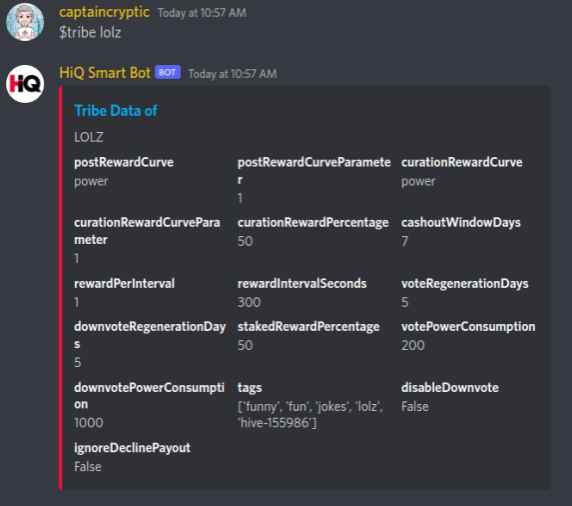 Impact and Transition Period for the !LOLZ Command
Now that staking is enabled, we will be moving to only include staked $LOLZ to determine your status and the number of times you will be able to use the !LOLZ command. In other words, you will need to stake 16 $LOLZ to use the command once per day, stake 64 $LOLZ to use it twice, and so on. In addition, the $LOLZ tip will come staked.
For the next week, the @lolzbot will look at both your liquid LOLZ balance and your staked LOLZ to determine your level. We are giving everyone this time to learn about the new staking requirements and stake their LOLZ. However, starting next week, only staked LOLZ will be used to determine your level.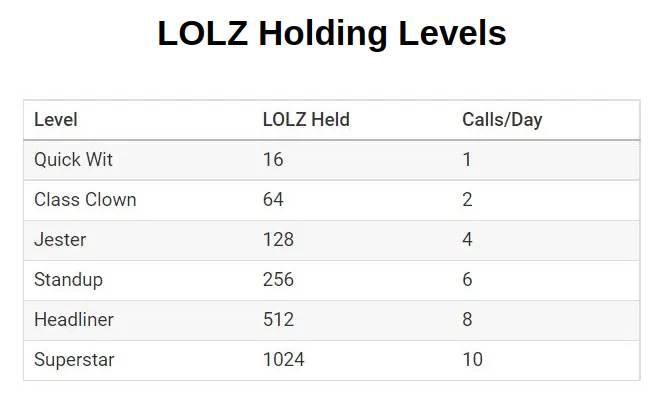 Impact and Transion Period for Dividends
Hopefully you already know that the LOLZ token pays dividends to its Headliners (those holding 512 $LOLZ or more).
Like with the !LOLZ command, we will be moving towards only considering your staked staked $LOLZ to determine your eligibility and share % for dividend disbursements. Also like with the !LOLZ, we are giving a 1 week transition period where the sum of your liquid and staked LOLZ will be used to determine your share of the dividend payouts. However, starting next week, only the staked LOLZ will be used.
Impact on FUN Air Drop
As we announced, we will be conducting a FUN air drop on August 20th. The airdrop is going to be on a 2 $LOLZ for 1 $FUN token basis. For the purpose of the airdrop only staked $LOLZ and $LOLZ in the MEME:LOLZ diesel pool will be considered. Also, the $FUN token air drop will come staked.
No Change to LOLZ Farming!
While we will be sending tips out as staked LOLZ, we will continue to send LOLZ farming rewards in liquid LOLZ.
Next Week We Are Doing It All Again!
As we have stated, next week we are going to do this all again as we launch the FUN tribe and you will be able to earn FUN tokens on the same #fun tags! Hopefully you will have your LOLZ staked by next Saturday at 8 am (Eastern Time) as that is when we are going to start the FUN Airdrop!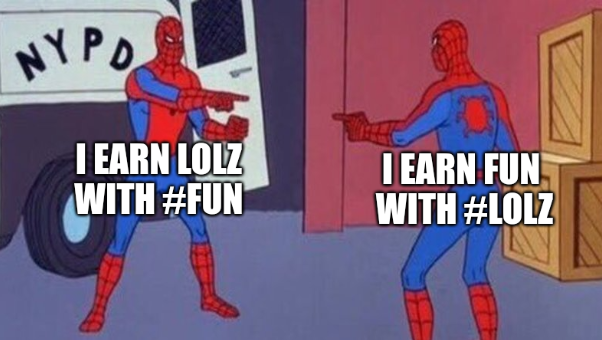 LOLZ Free For All On Steroids
We need your help to spread the news about our new LOLZ Tribe, so we are giving our usual LOLZ Free For All airdrop a dose of steroids to entice you to share the news with your friends and followers.
You can earn up to 15 staked LOLZ by taking the following easy steps while this post is active (ends August 21):
Comment below and tag a friend or three (1 LOLZ per friend tagged, 5 max)
Re-blog this post and tell us you did in the comments (5 LOLZ)
About the LOLZ Project
The LOLZ Project is an engagement project with the mission of spreading laughter and joy on the Hive blockchain.

---
---